Push Notification Advertising
Run Successful and Profitable CPC Campaigns with DailyClicks
Register an Account
Sign up for a free advertiser account.
Create a Campaign
Add funds to your account balance.
Get Clicks and Leads!
Start your advertising campaign in minutes!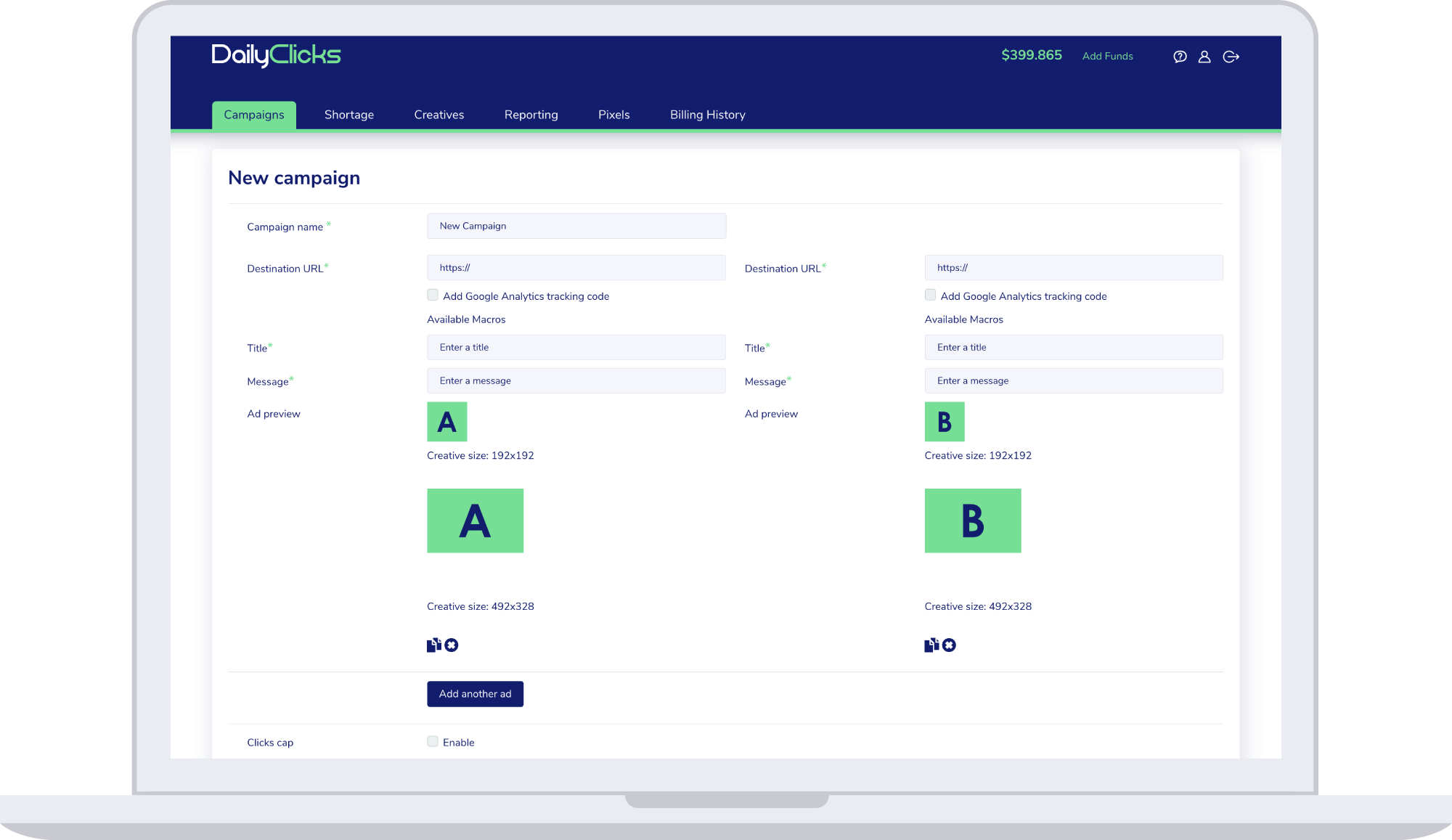 Optimize Your Campaigns for Best Performance
Smart CPC
Automatically set bids based on volumes and conversions.
Real-Time Reports
Get statistics in real-time on clicks, CTR and more.
Frequency Capping
Set daily number of
unique clicks.
Tracking Types
Track conversions by
clicks and leads.
Budget Control
Set daily and total budget for your advertising campaigns.
IP Blocking
Exclude visitors from
suspicious IPs.
Traffic Estimator
Check where your campaign stands in the network.
GA Integration
Connect and collect data
with Google Analytics.
Engage Your Target Audience
Target Advertising Campaigns with Precision and Scale
Self-serve Advertising Platform
DailyClicks is a self-serve advertising platform which offers Push Notification ads on a CPC basis. DailyClicks runs on RTB technology and thanks to our extensive network, we can offer our advertising service in the minimum bid rates of the global market.
Brand-safe Environment
DailyClicks offers a brand-safe environment and state-of-the-art targeting tools to deliver real audiences, with real results only. Whether you want to go local or international, mobile or desktop, we have the right traffic for you.
Try us today and receive 1000 clicks for FREE!




Register Today and Receive 1000 Clicks for FREE!
We are happy to deliver you the first thousand clicks for absolutely free.
Try us today and let the results speak for themselves.