Process Audit: How to prepare your team for AI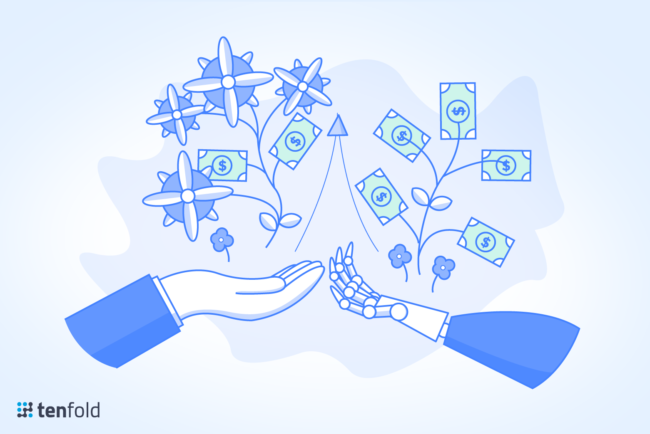 Today, it is no longer a question of adopting AI or not. Instead, ask yourself if you and your sales team are ready for the inevitable. Artificial intelligence for business is a reality. If your goal is to forge ahead and lead in your field, then you need to adapt to a workplace where AI plays a crucial role.
As J.J. Kardwell, founder and CEO of predictive marketing software company EverString, puts it: "Growth-focused sales organizations of every size and stage cannot afford to ignore the benefits of AI-assisted sales."
Where is AI for Business Today
"Artificial Intelligence heralds dramatic potential for growth for both the economy and for humans."—Accenture Institute of High Performance Managing Director-Economic Research, Mark Purdy.
According to research done by Accenture, artificial intelligence is projected to improve labor productivity by as much as 40 percent. Likewise, the growth of major global economies hinges on AI, with projections at 100% economic growth by 2035.
It is no surprise that investment in artificial intelligence has increased to $14.9 billion, as of 2014, according to a study conducted by the Bank of America Merrill Lynch. This is projected to increase further by at least 50 percent per year. The same study claims that the innate limitations of humans will make AI the core technology of the so-called "internet of things."
The benefits of AI are apparent and we're starting to fully embrace and leverage its advantages. With AI, you can count on fewer errors, faster response times, improved management of resources, and better use of legacy data. Businesses have experienced the difference, and adoption has moved faster across all industries.
Examples of AI Applications for Business
HANA (High-performance Analytic Appliance) by SAP: HANA is a database management application from SAP, a German multinational software company. Whether implemented from the cloud or through in-house servers, HANA is able to process massive RAM-stored data, allowing for fast real-time data-backed decision-making, transaction analyses, variance analyses, and process/ resource consolidation. It is used by big operations, such as Walmart; but, the application can also be retrofitted for small and medium-sized operations.
Avanade by Microsoft and Accenture: This Microsoft and Accenture venture makes use of the Cortana Intelligence Suite and its related solutions to provide business with data-based predictive analytics and insight. Businesses, such as Pacific Specialty Insurance Company, have used the service to build company-exclusive analytics platforms. In Pacific Specialty's case, they use Avanade to see and understand trends in policyholder behavior.
Cogito: Cogito is an AI service co-founded by Joshua Feast and Dr. Sandy Pentland. It makes use of behavioral science and machine learning to provide real-time insight to support reps, in order to improve caller interaction.
Amazon.com's Artificial Intelligence on AWS: Amazon is one of the leading proponents of machine learning, and they've been at it for 20 years. From its recommendation engine to Alexa, Prime Air and the company's supply chain, capacity planning and forecasting systems, Amazon's use of AI is nothing less than amazing. The technology is available to data scientists and developers through AWS's AI stack, which is already used by high-profile companies like Netflix, C-SPAN, and Liberty Mutual.
AI For Sales and Marketing
Artificial intelligence has also made headway in the fields of sales and marketing.
Chatbots: Chatbots have come a long way, from basic AI applications to more advanced iterations that are capable of providing actual support. Today's powered-up chatbots can handle mid-level queries, leaving only the more complex ones to their human counterparts.
Conversica by CenturyLink: CenturyLink is one of the United States' top telecommunications services providers. In 2016, it invested in the Conversica AI, which helps sort through millions of leads to find hot ones; and then engages with these leads via email, sets appointments with human salespersons, and finally passes the leads.
AI for Business Dashboards by DOMO: DOMO is a software company that has developed an AI-powered cloud-based dashboard to help businesses make decisions. The DOMO AI makes use of more than 400 software connectors to pull data from applications, such as Shopify, Salesforce and Facebook. This gives businesses a comprehensive collection of data and, of course, an AI capable of processing it; which has helped managers track real-time trends in sales, product inventory and customers.
The DOMO team has recently added Mr. Roboto to the platform. Mr. Roboto is the collective name for new features, touted to help executives make better decisions with the help of machine learning and predictive analytics.
DOMO's AI dashboards are currently being used by high profile companies, such as SAB Miller, MasterCard, eBay, Univision and the Honest Co. Univision's VP and General Manager for Programmatic Revenue and Operations David Katz claims that their first quarter yield has increased by 80 percent when they started using DOMO to collect and process data from their Facebook, Google Analytics and Adobe Analytics.
Apptus' AI for Sales Enablement: The Apptus eSales AI is an application that specializes in the path between the buyer's intention to purchase and the company's revenue. It features predictive sales and marketing functions, such as merchandising automation through customer behavior trends.
Companies, such as Bokus.com, a digital bookstore based in Sweden, use Apptus eSales to improve conversion rates. In Bokus' experience, Apptus has helped keep their employee count low while achieving a 100 percent customer turnover rate for each opened personalized (through AI) recommendations newsletter.
The General Apprehension with AI
Unfortunately, even with all of the amazing applications that come from AI, the human labor force has not caught up. In terms of training and acceptance, this is perhaps the root of the general apprehension that surrounds AI and job automation.
The projections are worrisome:
According to the Bank of America Merrill Lynch study, automation can affect job growth estimates in the US.
The British Retail Consortium says that more than 30 percent of a million retail employees may be jobless in the next 8 years because of automation.
An exclusive report says that the current wave of technological innovations puts almost half of the US labor force in peril.
Robotics installations are poised to increase by a compounded annual rate of 10 percent for the next decade.
Prepare Your Sales Team for AI
Assess your sales and marketing processes.
One of the key steps in preparing for and integrating with AI technologies is to evaluate what you currently work with in your organization. Outline the processes implemented in each department. Within sales and marketing alone, you'll notice a number of tedious tasks that are best automated and left to the machines.
Ask your team:
What aspects of your job are low-value and best offloaded?
What repeated tasks consume a lot of time?
The answers here will give you valuable insight on the many AI integration opportunities within various departments. AI doesn't spell the end for salespeople and it's vital that team leaders convey that message. A huge part of sales still depends on human interaction and personal engagement. Being able to offload repetitive tasks to artificial intelligence, you can look forward to an increase in sales productivity.
Talk about the impact of automation.
Like all advancements, there are tangible positives and negatives, and AI is no different.
A business will necessarily go through some form of restructuring in order to effectively integrate artificial intelligence into its sales and marketing tasks. This might result in reassignments or layoffs. Let your team know what to expect, especially if their jobs are in danger.
Of course, it's not all bad news for employees. AI is a big help with mundane tasks, and its integration can result in improved work performance and sales production. For instance, with an application like Conversica, leads are already ranked and qualified before they reach a sales team. Once received, salespeople can focus on prospect engagement, overcoming sales barriers, and work towards closing a deal.
Think about redefining roles within your team.
Expect automation to cut down tedious tasks and redundant positions, which ideally will make your team more effective and productive.
Make the most of this by taking a look at the make-up of your team. Assess individual competencies and contributions to the team's goals. Once you see where your strengths and weaknesses lie, you can redefine and reassign the workload.
Provide opportunities for learning.
One of the best team responses to a faster and more efficient AI future is to become faster and more knowledgeable too. So, alongside your investment in artificial intelligence, also give importance to employee development.
Create learning opportunities through flexible policies and investment in ongoing education. There are several online courses, as well as part-time advanced degree programs, available in the fields of sales and marketing. On-site workshops and training sessions are also good options, especially since you can tailor these training programs to suit your business' specific requirements.
Improve team (and AI) collaboration.
Collaboration is key to a seamless AI integration. This means working as a team to adapt with the changes, and move forward. It means department-wide and organization-wide cooperation towards a smooth transition and a successful adoption.
Likewise, it also means collaborating with your AI machines. Remember that AI works for you, and it can only do so much. It takes what you give so encourage the team to provide input, especially when it comes to customers and the sales process. The more accurate data your AI platform has, the more it can learn and be of true help to your business.
Optimize Your Data Use
Data is one of the crucial elements in guaranteeing that AI adds to your operations. Remember the old adage: "garbage in, garbage out."
So, make sure that your AI platform is able to collect the right kind of data. A good part of this depends on your team. For instance, current CRM systems require the agent's input after calls or other prospect engagements. Make sure they do their part. This might seem small, or even ignorable, at first. But, it becomes part of your big data, which would eventually help you make better decisions.
The Fuqua School of Business at Duke University asked several Chief Marketing Officers regarding their data use. On a five-point scale, they scored an average of 3.2 when it comes to their organization's ability to use customer data. Then on a seven-point scale, they scored an average of 3.4 for their ability to integrate data across different channels, in order to make better business decisions.
Monitor, Measure, Repeat.
Remember that artificial intelligence is not your wardrobe pathway to Narnia. Success with AI does not happen through magic. It takes consistent work – and repeated monitoring and measuring.
AI will introduce new processes and functions to your team. You can't expect to perfect your implementation or use of your AI platform on your first – even your nth – try. So, keep at it. Focus on your key metrics and observe, with AI's help, what factors into these key performance determinants. And, then tweak where necessary.
Look to an AI Future
One thing that we know for sure is that artificial intelligence is the future of business. While the field is still in its infancy stage, you can expect it to mature and become critical cogs in how your business and industry operates. AI will change you, your team and your organization. Jobs and business processes will necessarily evolve.
You can look forward to exciting years ahead. Prepare early and arm yourself with ample AI integration know-how.
___
by Chase Davis
source: Tenfold