7 mistakes to avoid when using Push Notifications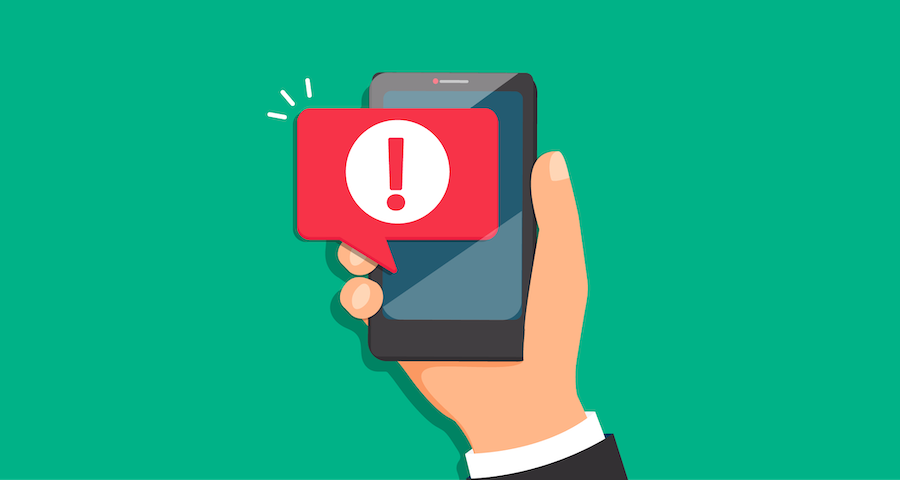 Web push notifications are one of the best marketing tools for re-engaging users.
Web push notifications allow you to interact with the customer directly on their browser, and installing them on your website is very easy. Though the entire process of integrating push notifications is simple, there are some common mistakes companies make. Avoiding these mistakes can significantly improve the performance of your push notification campaign.
1. Multi-step subscription option
One of the requirements for any marketing campaign is to have sufficient users. Similarly, for the success of any push notification campaign, you need to have high subscriber numbers. There are two ways to collect push subscribers:
Single-step opt-in box: This requires an HTTPS website.
Multi-step opt-in box: This works on both HTTP and HTTPS websites.
Under a multi-step program, there are multiple styles of subscription opt-in box to collect push subscribers. A multi-step program lets you edit the opt-in style, text, color and other parameters. This allows you to design the "subscription box" in line with your website/business.
Why is this is a mistake? The sheer number of interfaces the user must visit before subscribing can be a blocker. User may click "allow" in the first opt-in box but "deny" on the second page. This decreases the subscription rate.
How to fix the mistake
Start using single-step opt-in for subscriptions. This allows the user to subscribe to your push notification in a single click. The subscription rate of single-step opt-in is almost double that of multi-step opt-in. With the overlay message option, you can convey a message about why users should subscribe.
2. No segmentation
When you're ready to start sending push notifications, you must still contend with low click-through rates (CTR). That's likely because you don't have targeting or segmentation on your messages. Sure, you're collecting subscribers, but you don't know enough about them. This is one of the prime reasons for a lack of engagement with push notifications.
Segmentation helps you to send targeted push notifications. This will improve the CTR of the push notification campaign. A study has found that segmentation increases CTR by two times.
How to fix the mistake
Before you start collecting subscribers, put your basic segmentation tactics in action. These are some of the easy ways to implement and use segmentation:
Default segmentation: Most of the push notification platforms have default segmentation available. The most common segmentation includes geo-based, device-based and browser-based lists.
Geo-based segmentation: If your website serves clients across a wide range of locations, you should send different push notifications based on geographical area. For example, if you are a food delivery website, make your food offers specific to geographical areas.
URL-based segmentation: Once the notifications are integrated, the user who subscribed from the specific page will be segmented based on the URL they came from. For example, users from different sources are landing on your various pages. In theory, this means you know that user is interested in that topic or product category.
Later on, you can do advanced segmentation of your subscribers based on actions, events and other user attributes.
3. Bad timing
Once push notifications are integrated, most websites start sending them randomly. Some of the notifications offer better CTRs than others. Without analysis on notifications to understand which timing is better, websites keep sending the notifications.
Timing is very important to the success of any notification. Every target customer is different, and so is the time when they are active. For example, if your products target a segment for college students, you should send notifications late at night, because that's when students are most active.
How to fix the mistake
After a month, you should analyze your website's push notification data. Check which times and days are resulting in the best CTR for your push notification campaign. Analyze the data segmentation as well. This will give you the overall picture of the following:
Regular subscribers: On average, what is the best time and day to send push notifications?
Segmented subscribers: What is the best time and day for each of the segments to send push notifications?
4. Poor copy
Push notifications are designed to deliver instant information to the user. Push notifications limit the number of characters that you can enter. Since they're short messages and easy to create, businesses often create notifications without much thought on the text of the message. Users can get annoyed with irrelevant and misleading push notifications. This leads to decreased CTR and an increase in users unsubscribing.
How to fix the mistake
Similar to any marketing activity, good copywriting helps you to create wonderful notifications. There are five basic points to remember when creating push notifications:
Be concise. Since the number of characters is limited, chose your words wisely. Keep the title and description crisp and clear. If your copy is long, then it will cut off, so you need to stick to the character limit.
Be relevant. The title and the description of the notification should be in sync. Otherwise, the push notification will be confusing. Also, the landing page should convey the same offer you have mentioned in the notification. Always be honest while sending push notifications.
When writing content, try different styles to encourage the user to click on your push notifications.
Urgency: If you are running a sale, try a title that shows urgency. For example, use phrasing such as "last 24 hours of sale prices."
Intriguing: Curiosity works in your favor. Create an intriguing title to entice users to click your notifications. For example, try phrasing such as "increase sales by 10X in 30 days."
5. No expiration
You see a two-day sale for 50% off. However, you log in to your system after a week and see the same notification. You click the notification only to find that the sale is over. That's not a great experience.
That's just one example of a terrible experience resulting from not a business not setting expiration dates on its notifications. This simple mistake can lead to dissatisfaction among your subscribers and will result in unsubscription.
How to fix the mistake
While creating push notifications, you can select "expiration time." This way, your subscriber will never receive outdated push notifications.
6. Missing automated campaigns
Sometimes you miss the chance to send push notifications at the right time. For example, if you are running an event, you should update your subscribers regularly about the event. However, for whatever reason, you forget to update users during the event. This will lead to a lack of engagement with subscribers and can affect the performance of the sale event.
Another opportunity to interact with subscribers that some websites miss is action-based notifications. When a user comes to your website, they perform different actions. If you can interact with the user in real time based on their actions, chances of conversion are higher. If you don't track user action, you will miss this opportunity.
How to fix the mistake
There are automation features on push notification platforms that can be very helpful in push campaigns. You can create multiple campaigns using these automation features:
Schedule notifications: When Amazon runs the Prime Day sale, each category is put on sale at a different duration. If you are running a similar campaign, you can schedule all your push notifications to be sent automatically to your subscribers.
Cart abandonment campaign: Some users do not complete a purchase and leave the website despite having put something in their cart. If you reach out to them with targeted push notifications, the chances of them converting are very high. Use the cart abandonment campaign to reach out to those customers automatically. You can create multiple push notifications to go out automatically whenever a user abandons their cart.
Triggered campaigns: You can also re-engage with a subscriber based on actions they take on your website. You can decide which actions are important and automate notifications to go out when the user performs any of those actions. For example, if the user downloads the PDF or watches the product video, it indicates that they're interested and you can trigger your notifications.
7. Long gaps between notifications
After installing push notifications, website owners start sending them regularly to their subscribers. Whenever a new user signs up, the website starts sending customized notifications. However, after some time, the number of notifications going out goes down. Eventually, a long time will pass between notifications.
This results in lower CTR and high unsubscribe rates. This could easily have been avoided if the website sent push notifications on a regular basis to keep users engaged. When a user subscribes to your push notifications, they expect to keep getting relevant information from you.
How to fix the mistake
Once a user subscribes to your push notification, you should always keep them engaged. You can easily achieve this with a drip campaign. A drip campaign allows you to create a series of push notifications to go out automatically to the user when they subscribe. This is helpful for building your brand as well as nurturing leads.
You can create multiple drip campaigns for different conditions. You can even create targeted push notifications using drip and segmentation features together.
___
by Ravi Trivedi
source: business.com