How to find your digital marketing 'Easter Eggs'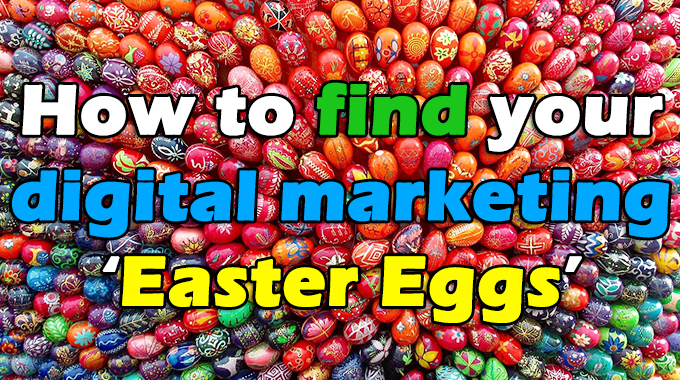 With Easter just over and spring around the bend, soon, birds will be chirping, trees will be blooming and everything will come to life.
Sure, nature emerging from the depths of winter doesn't seem to have much to do with digital marketing – but, as communicators, we're actually influenced by everything around us. And from the latest tools and trends on the market to understanding how a customer's mind works, a digital marketer has plenty of things to juggle on a daily basis.
In fact, a digital marketer's job description and the way he or she needs to be one step ahead of the industry's developments is much like an Easter egg hunt.
What are the best ways to navigate the obstacles of the WWW and find the Easter eggs – or rather, needs – of your clients? We've gathered some Easter-inspired tips for the digital marketer of today; read on to find out how to perfect your strategy.
Ready, Set, Go 
Undoubtedly, digital marketing is a very complex mechanism. Both technical and creative at the same time, it's also both social-centered and data-focused. In one way or another, the digital era has blended traditional marketing and the stability of tried-and-true methods with newer, constantly changing practices.
Whichever area of digital marketing you work in, creativity is an absolute must. From SEOs to Web developers to content writers, we all need the resourcefulness to "make it happen."
To find the "Easter eggs" that open the doors to more conversions, you should first and foremost stock up on inventiveness.
The Tools 
Whether we like it or not, creativity is simply not enough in an age of complete digitalization. Without the right tools, you can't effectively market your products to attract your customers.
Luckily, there are several such tools to arm yourself with before going in for the conversion, to aid with your:
• Keyword research. The most commonly used tool is, by far, Google's Keyword Planner. Although meant for PPC advertising, it's a true miracle for someone working in SEO – plenty of data is available to use for optimizing your site. Aside from this tool, it's worth givingWordtracker or Wordstream's Keyword Tool a shot.
• Website analysis. Regular maintenance is an essential part of Search Engine Optimization, and there are tools at your disposal to check how it's running from a SEO point of view. SEO Site Checkup offers simple reporting and helpful tutorials on fixing issues. It's also recommended that you measure your site's crawlability, which you can use the Screaming Frog SEO Spider Tool for. Furthermore, Google's Search Console and the 'Bing Webmaster Tools' (http://www.bing.com/toolbox/webmaster) offer the opportunity to go more in-depth with site optimization and creating attractive content.
• Content quality. Search engines measure the quality of your content in a variety of ways – including by looking at how many readers it has and how long they stay on your page (a high bounce rate in Google Analytics will reflect badly on your site). Tools you can use to make sure the content you publish is qualitative include CoSchedule's Headline Analyzer and Small SEO Tools' Plagiarism Checker.
• Social media. As you probably know, social media plays an important part in the digital marketing process. Aside from each social networking site's own measurement tools, you might also want to use a tool that "listens" to what people are saying about your brand or a particular offering, such as Social Mention. Also, if you run multiple social media accounts, HootSuite will help you keep to a schedule so you don't lose track.
Of course, this is just a handful of the many tools available for use in the digital marketing sphere. These have been selected because they are well-known in the SEO community and can provide plenty of insight needed to adjust your campaigns – according to your audience's interactions, the latest SEO guidelines and any other factors you may not be aware of right off the bat.
The Egg Hunt 
Creativity is absolutely crucial – and using the right tools is the key to success. Yet, all of this is still not enough for those who want to attract and convert as many clients as possible.
…And this brings us back to the "Easter Eggs" we mentioned in the beginning.
There some things you should "hunt" for as a digital marketer – and, with creativity and good tools, you actually find the best "hidden gems" for your digital marketing campaigns. Here are some examples:
• Finding new ways to maximize Google Search Analytics Report when you want to target a specific audience.
• Finding a new tool that will refine your digital marketing techniques.
• Finding what makes your audience "click" by utilizing different tools, intuition and by following the trends.
• Finding content topics that are interesting for your readers (e.g.: when Google updates their algorithm unannounced and you are among the first ones to spot this).
• Finding just the right word to use in a character-limited headline.
• Finding new ideas to promote your business on the Social Media.
• Finding viral content that can be applied to your own business and the products/services you sell.
In the end, working in the very young industry of digital marketing can feel very much like an Easter egg hunt. There's a myriad of new and exciting ideas and trends, the digital landscape is constantly changing and the audience itself is adapting to new trends and ideas as well. As a digital marketer, you will have to search for these "Easter eggs" to make sure your campaigns are successful.
___
by Alexander Grosu