The future of retail? Five game-changing technologies to look out for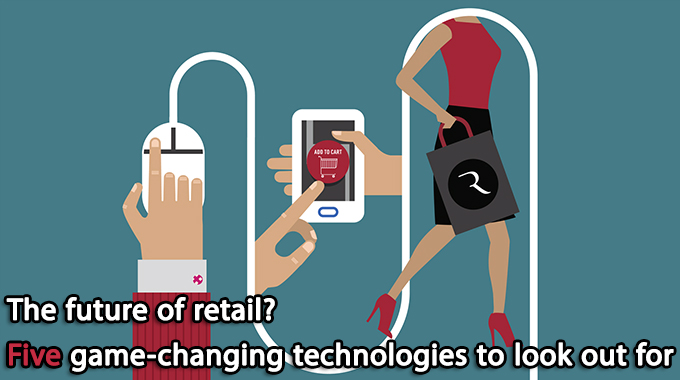 Last Tuesday, attendees at the Mindshare Future of Retail Huddle were given a glimpse of the technologies which could revolutionise retail going forward.
"There's never been a more exciting time. Or, there's never been a more frightening time," David Roth, CEO of The Store, said in his introduction to the event.
Big data, the Internet of Things, and virtual and augmented reality were some of the key themes of the afternoon. I was introduced to the packaging that could soon enable products to talk to each other, heard about why big data is more valuable than oil, and found out that a button in your home which orders pizza might actually become reality.
Whether you find them exciting or frightening, here are some of most intriguing and potentially game-changing technologies that were demonstrated at Mindshare's Huddle.
SCREEMO and 'Fun Commerce'
What is the best way to engage smartphone-wielding young people on the go? This is a question that many brands have grappled with as they try to create campaigns which will appeal to young, technological consumers. SCREEMO believes it has the solution.
SCREEMO is a platform that makes it easy for designers to create interactive games and challenges, which consumers can take part in using their mobile phones, for a prize such as a free drink or discount coupon.
Normally these hi-tech mini-games would be high-cost and resource-intensive, taking weeks or months of effort to create, but SCREEMO tries to make them simple and cost-effective.
Barak Zimerman, who works in UK Business Development for SCREEMO, believes that 2016 is the "year of gamification". He believes that brands can use the principle of 'fun commerce' – of making brands and retail entertaining and fun – to stand out in a crowded market. "Everyone is trying to sell something. How do we engage Millennials on the go, how do we get their attention in an environment with so many attractions around us?"
As a so-called 'Millennial' myself, I went into the presentation sceptical of whatever Zimerman would produce to win over my age group, but I was impressed with the idea. The games were simple, fun and straightforward to take part in, assuming that you have a smartphone with internet connection to hand, and let's face it, most people generally do.
SCREEMO has seen very high rates of engagement with the games and their rewards, though Zimerman admitted that they didn't have any data to show whether they led to increased awareness of a brand over the longer term. Even so, it's an innovative idea that would no doubt integrate well into a wider marketing strategy, especially if the SCREEMO platform is as easy to use as they claim it is.
Reactful and the science of digital body language
When you go into a physical shop and interact with a salesperson, that person will most likely be reading your body language, along with other indicators like tone of voice, in order to judge how to deal with you.
In the physical world, that's a fairly obvious and time-tested thing to do; but why can't we do the same with ecommerce?
Reactful sets out to do just that, with a technology that records and interprets the actions of visitors to a site, gauging their state based on their behaviour – confused, for example, or interested, or idle and away from the computer.
It feeds all of this data back to the website owner, who can use it to solve problems with the user experience, or program certain reactions into the site. For example, they could configure a subtle 'nudge' like a jiggling image to recapture a user's attention, or an sign-up form can appear if the visitor scrolls down to a certain point on the page.
The analytics alone make it an extremely useful tool in any webmaster's arsenal. Jonathan Friedman, CEO of Reactful, pointed out that normally we only have access to "yes or no" information about consumer behaviour: whether they clicked on something or didn't, whether they bought a product or didn't.
Reactful diversifies that information. I could see it being useful for trouble-shooting something as basic as a confusing site layout, for fine-tuning your approach to certain customers, or for increasing the interactivity of a website.
There might be a temptation for site designers to 'over-optimise' their content if they're too overzealous with programming reactions, and of course it's always worth being aware that there are reasons a visitor might leave a site which have nothing to do with whether or not they're presented with a form at the right moment.
But it's still incredibly useful information to have, and I wouldn't be surprised if these types of insights become the norm with web analytics as we find more sophisticated ways of measuring interaction with our sites besides simply clicks, arrival and leaving.
Sidekix: Using footfall to increase sales
Of all the technologies I saw demonstrated over the course of the Huddle, this is the one that I could most see myself using in day-to-day life.
Sidekix is a navigation app (currently only available on iOS) designed specifically for pedestrians. Unlike most navigation apps which are only concerned with taking you somewhere along the fastest route possible, Sidekix tries to account for how you might want to get there, and what you might want to do along the way.
As Sidekix co-founder Miron Perel said, "We're people; we don't just care about getting from Point A to Point B."
Sidekix is aiming to "bridge the gap between utility and lifestyle" in navigation apps, presenting walkers with a range of options for customising their route based on what they want to encounter along the way.
They can choose from route types such as "Trending" (which flags up popular landmarks), "Artsy", "Fashion" and "Culture" and more, and Sidekix will design a path which takes them past these types of places and attractions.
You might be wondering, what does this have to do with retail? The Sidekix founders believe that there is still plenty of room in the ecommerce world for 'brick-and-mortar' stores to succeed. After all, as Perel pointed out, online retail giant Amazon is now expanding into physical bookshops.
An app like Sidekix can help to greatly increase footfall to brick-and-mortar shops by alerting pedestrians to their presence along their route. This, combined with some strategic location-targeted mobile advertising creates a lucrative opportunity for physical retailers.
Location-targeted mobile ad revenue, in the U.S. alone, is slated to grow from $6.7bn in 2015 to $18.2bn in 2019, according to a report by BIA/Kelsey. But mobile ads can often be more intrusive and annoying than beneficial – to both the retailer and the consumer.
They often depend on collecting accidental clicks, where the consumer clicks on an ad in the process of trying to close it, which is of no use to retailers, who are paying for clicks that were never going to translate into anything.
Take into account the user's location and context, though – they are at this place, and travelling to this destination – and present them with an incentive, such as a half-off coupon for a shop they're due to encounter along the way – and Perel believes you have a magic formula for making mobile advertising more lucrative and useful for all parties.
Currently, Sidekix is only live in two cities: Tel Aviv, and London. Retailers outside of those two locations will have to be patient for a while longer, but I think Sidekix is truly on to something that will prove hugely beneficial to both retailers and their customers.
Kwik
Have you ever wished you had a button you could press to order pizza? Domino's Pizza actually introduced this concept in a giveaway last November, giving away an 'emergency pizza button' to winners of a competition on Twitter in the UK.
But the idea of a one-press button to order not just pizza, but all kinds of things, could become a reality thanks to an Israeli start-up called Kwik. Kwik has created a quick-order button that can be configured to order anything: from pizza to groceries, household items, even additional stock if you're a retailer.
You might remember the Amazon Dash button, which was debuted last year just before April 1st, prompting a near-meltdown among consumers as they tried to figure out whether the button was a real product or a prank. It was in fact real, and now Amazon Prime customers in the US can use the wi-fi-enabled buttons to order goods through Amazon from 29 different brands.
But Kwik wants to completely open up that market, with a button that isn't owned by any one retailer or limited to any one product or brand. They've already set up partnerships with major companies including Coca-Cola and yes, Domino's, and are in talks with various other brands and retailers across the UK and US to connect the button with their products.
Kwik is offering brands a direct channel to their customers as well as the opportunity to collect real-time data about customer buying habits, while customers can enjoy the convenience of a quick and frictionless purchase.
It could be used for more than just single-item purchases, as well; Kwik CEO Ofer Klein explained that shoppers often duplicate their entire carts while grocery shopping, meaning that there is potential for introducing a single-press button to carry out entire shopping trips.
One of the other presentation attendees pointed out that Kwik might face competition from voice-controlled digital assistants like Siri which allow you to place an order simply by speaking into your phone. (Unsurprisingly, Domino's has also introduced this concept to its deliveries as well).
But while vendors compete to see who can create the laziest way of allowing customers to place an order, I think there's leeway for some interesting innovation in this space.
Imagine for example a button to place an order when a retailer is running low on stock, placed next to each product in a stockroom or warehouse for easy re-ordering. Or a button on the side of your coffee machine that you can press to re-order coffee grounds and filters. (Particularly useful if you're a café owner).
There are still a lot of logistics that would need to be ironed out, but as much as the idea of a 'shopping button' sounds like a novelty gimmick, I wouldn't be surprised if we see a lot more of these buttons in the future.
Pack to the future: Packaging and the Internet of Things
The last presentation of the day was devoted to what, to me, was the most futuristic – and slightly unnerving – technology yet: smart packaging.
The Internet of Things and associated 'smart' products is an area that has seen huge expansion over the past few years, something which is predicted to accelerate wildly in 2016 with a 30% increase in connected 'things' in use, according to Gartner.
But while plenty of attention has been paid to things like smart hardware and cars, you probably wouldn't have thought that the Internet of Things could apply to packaging.
The R&D lab at Mindshare, in partnership with SharpEnd, carried out a study to see how people responded to 'smart packaging' that communicated with them about its usage. They added electronic NFC tags to product packaging, allowing it to communicate with participants' mobile phones, sending reminders, suggesting recipes and providing use guidance.
I'm not sure how I feel about the idea of my moisturiser reminding me to put it on when it's cold outside, but I can definitely see the use of receiving a notification when a food item I've bought is about to expire, complete with some recipes to use it up.
But while I can see the potential in the idea, to me there's something inherently creepy about adding connectivity to household items, making them 'aware' of how I use them and allowing them to communicate with each other and with me.
For brands, it's hard to see the down side, as smart packaging would give them an unprecedented level of access to consumer's homes and habits, allowing them to collect data, communicate with messages and advertisements, and lots more.
There's a fine line to tread here between usefulness and intrusiveness. 64% of people surveyed in connection with the study said they wouldn't mind products collecting data about them as long as they got something of value in return. But some of the study participants were concerned about being able to opt out of notifications, and to control which products they interact and share data with.
The idea of smart packaging definitely has huge and wide-ranging implications for retail – and privacy. If we do see smart packaging gain widespread commercial use, I think some strict regulations would need to be put in place governing how it can be used. While it might seem like a way off from really happening, given the way the Internet of Things has exploded over the past few years, I think it's a logical direction for retail to head in. We just need to go carefully.
___
by Rebecca Sentance