The rise of branded 'edutainment'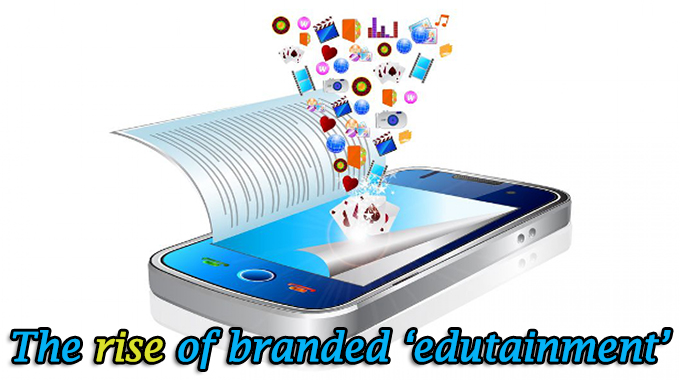 Blending amusing storytelling with information previously only found in product demos, 'edutaining' content is beneficial to the consumer and brand simultaneously.
Small businesses don't have it easy.
Aside from creating distinctive products and meeting the ongoing needs of their customers with limited resources, they face challenges like effectively building their brands and driving website traffic.
So when Deluxe Corporation, which offers printed and digital marketing materials for small businesses, wanted to explain its product offering to potential clients, it launched an online portal and packed it with useful information.
"Behind the Business" includes how-to articles, infographics, marketing insights from Shark Tank's Robert Herjavec, and video case studies of real-life small businesses featuring Herjavec himself.
The result is pure edutainment: content that's designed to both educate and entertain viewers.
Edutainment serves the needs of brands and their customers: the former gets exposure among its target audience, while the latter stands to gain valuable information. In the case of "Behind the Business," the exclusive resources offered by the brand deliver value while demonstrating Deluxe's devotion to helping customers overcome small business obstacles.
"When you create something that helps people, inspires people, or just lets them know you understand where they're coming from, that's what cuts through the clutter," says Amanda Brinkman, chief brand and communications officer for Deluxe. "You have to make compelling videos. That's not easy, but we have found success on that front."
As brands search for ways to stand out online, edutainment is increasingly appealing. Last March, Smart USA launched a series of YouTube videos called "Demo Games" that charmed viewers with funny, Olympic-style events while showcasing vehicle features.
This month, Rémy Martin cognac introduced an in-browser interactive video experience that allows consumers to explore the brand's 300-year history. The virtual tour pairs hidden content with online games.
For example, users must keep their virtual drinks steady while they navigate a party, learning about France's Champagne region, the distillation process, the roots of the Rémy Martin logo, and other relevant brand and product facts in the process.
"We want to provide consumers with a more robust brand experience, while educating them on the elements of what makes Rémy Martin so unique," says Kai Rosenthal, director of public relations at Rémy Cointreau USA.
"We know that consumers don't want to be lectured by a brand," adds Jazmin Correa, planning director with MullenLowe Profero, the brand's creative digital agency on the campaign. "With One Night/Live Them, our goal was to create a fun experience. The interactive elements within the video keep our consumers interested and involved in the experience."
Studies have shown that consumers favor content that's funny or informative. They're also likely to share content that serves a purpose, even when it comes from a brand. Close to 50 percent of consumers across 16 countries share content in order to feel useful, and 40 percent of global consumers aren't concerned about the source of the content "as long as it is interesting."
Edutainment fits the bill. Because it blends a narrative with the kind of information that was previously relegated to product demos, spec sheets, and white papers, it's predisposed to being more engaging.
In addition to its video case studies and blog, Deluxe last year launched "Small Business Revolution," a content series that celebrates small businesses and their contribution to communities.
"The response to that project has been stunning," says Brinkman, adding that the "Behind the Business videos are "the focus of a full-court press on social media, in media relations, in customer outreach from our account managers."
Deluxe is measuring video views, time spent on the site, and conversions linked to the site's various calls to action. The concept of edutainment has both B2B and B2C applications, but brands that invest in it should focus on crafting content with substance.
Delta's ongoing series of web-based safety videos is a perfect example of striking the right balance between amusement and instruction. The videos are fun to watch, but the humor isn't gratuitous. Rather, it helps viewers retain the information the brand wants to convey.
Effective at enhancing everything from search rankings to brand lift, quality content continues to top marketers' must-have lists. Is yours edutaining your customers?
___
by Tessa Wegert