10 clear signs you need to make a mobile app for your customers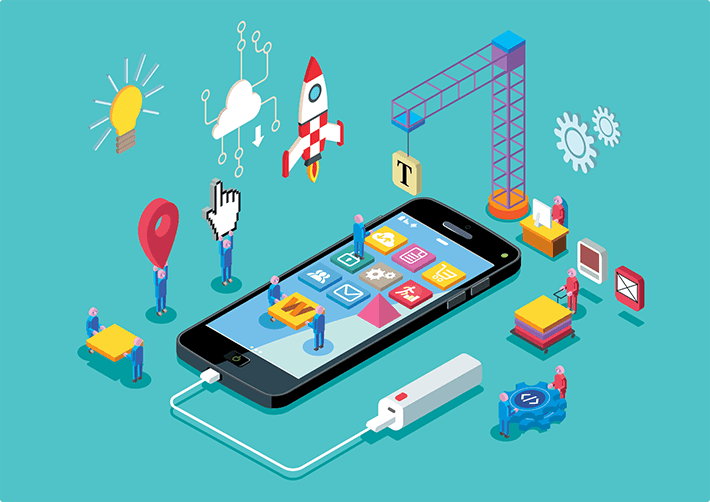 Many businesses see a major shift in their success once they establish a website that lets them provide new information and tools to their customers. However, some may see even greater success if they develop a mobile app.
But how do you determine whether an app is right for your business? And once you make that leap, how do you decide what to put on the app?
To help you answer these questions, we asked the members of Young Entrepreneur Council to lend their expertise. They share 10 clear signs your business needs a mobile app, as well as how to figure out your app's must-have features.
1. An App Would Help You Increase Business
Businesses should consider offering an app but only if it provides tools that will help you increase business. Your app needs to be connected to your business plan, and businesses shouldn't just get one to have one. Businesses should also look at how their online audience is connecting with them. What is motivating them to make a purchase? How would an app fit into that plan and lead to sales? – Joe Morgan, Joe's Datacenter, LLC
2. Your Competitors Have Mobile Apps
Do nothing more than look at the competition and you will see that all of your competitors more than likely have a mobile app. Consumers and even regular folks are more and more connected to their phones, which underscores the necessity for an app. It would need a link to your website, push notifications, as well as support and contact information. – Andrew Schrage, Money Crashers Personal Finance
3. Your Product Could Be Enhanced By An App
Make an app if you have a specific digital product offering or a physical product that can be enhanced via an app. For example, if you sell any kind of recurring subscription product and an app might be useful to help people track orders and purchase additional items. – Nicole Munoz, Nicole Munoz Consulting, Inc.
4. It Would Give Your Clients Greater Access To Your Brand
An app is generated with the objective of providing a greater possibility for clients to access the portal, from any place and at any time. In addition, it translates into greater communication with customers. Better attention and the strengthening of the brand are also covered by having a mobile app. – Kevin Leyes, Leyes Media & Team Leyes, by Leyes Enterprises
5. It Would Offer Greater Functionality Than Your Website
A mobile app is only necessary if your business is SaaS and you can't replicate the same app functionality on the website. For a typical small business, a website has all the functionality you need. Many times small businesses decide to create a mobile app that, frankly, users won't download. It is not worth the investment as all of the functionality the app has is on the website already. – Peter Boyd, PaperStreet Web Design
6. Your Customers Aren't Engaged On Your Website
If your business is doing fine but struggling with customer retention, that could mean your website visitors aren't engaged enough. Consider using a mobile app to increase interaction between your business and your target market. You guys can talk more through push notifications and in-app messages. Use what you learned from their behaviors to encourage engagement and increase customer retention. – Samuel Thimothy, OneIMS
7. You're In The E-Commerce Market
Most businesses would do well to create a mobile app for their customers. With the number of e-commerce shoppers increasing, it's safe to assume that people want to shop through mobile devices. So if you don't have an app to accommodate them, you're missing out on sales and other conversions. Collect data from your customers and competitors to see what your mobile app needs to succeed. – Stephanie Wells, Formidable Forms
8. Your Customers Need To Log In To Use Your Service
If a customer needs to log in to use the service, it is time for an app. Most of what we do nowadays is on our phone. We search for meals, we date and we conduct business. Your website can only take you so far, and if you have clients that are out of town and operating on a tablet or phone, an app is a draw. Onboarding is easier as well with an app, as opposed to desktop. – Matthew Capala, Alphametic
9. It Would Solve A Customer Problem
Before building a mobile app, I always advise business leaders to ask themselves, "Will the app solve a customer problem?" Your app should offer new functionality and convenience to customers, making it easier for them to interact with you. For example, mobile check deposits via a bank's app solved a big problem for customers and brought the "wow." Your app should solve a similar problem that impressively. – Thomas Griffin, OptinMonster
10. Your Customers Are Asking For One
The best way to determine if you need a mobile app is to listen to your customers. Consumers today are very vocal about what they expect from businesses. If you're curious, you could conduct a survey on social media or your website. Ask if users would like a mobile app, and if the answer is yes, brainstorm some feature ideas for the application. Post a second survey and use the popular picks. – Chris Christoff, MonsterInsights
___
source: Forbes