Five ways to incorporate social shopping into your digital marketing strategy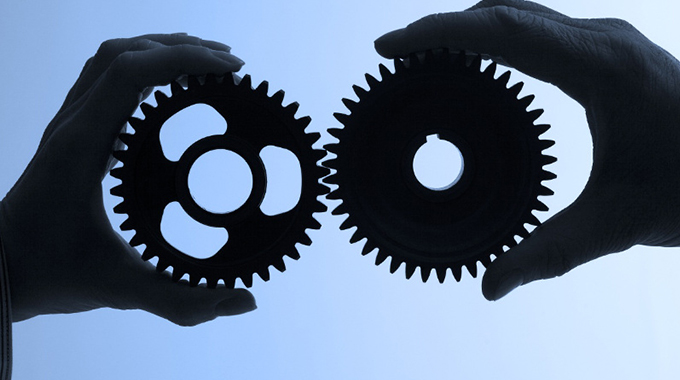 At eDelivery Expo 2016 in Birmingham's National Exhibition Centre, Samantha Hearn, Head of Social Media at Anicca Digital, gave a jam-packed presentation on how social shopping can add value to your business.
Social shopping is, more or less as you might have guessed, the name given to when social media and shopping meet online. It describes everything from integrating e-commerce features into a social platform – such as 'buy' buttons on networks like Twitter,Pinterest and Instagram – to dedicated websites that combine shopping with social media.
According to the Internet Retailer's Social Media 500, the top 500 retailers earned $3.3 billion from social shopping in 2014, up 26% from the previous year. This is well ahead of the average 16% growth rate for the e-commerce market in the United States, as reported by Business Insider.
A study by digital marketing agency Greenlight found that 52% of UK marketers believe that social commerce will be the most rapidly growing trend in 2016. And 74% of consumers are said to rely on social networks to guide their purchasing decisions.
So how can you benefit from this rapidly-growing intersection of social media and e-commerce? Hearn's presentation gave five practical ways to start incorporating social shopping into your overall digital marketing strategy.
Buy Buttons
You might have heard that social media 'buy' buttons have been slow to deliver on their initial promise for online retailers, and while it's true that they haven't become a consumer spending habit just yet, they have a lot of promise as a tool for capitalising on impulse buys and making online purchases more efficient.
Pinterest is a particularly strong channel for making use of the 'buy' button (or buyable pins, as they're called): the pinboard-style social network drives 16% of social commerce revenue by itself, despite having a user base 6.5x smaller than Twitter.
According to Pinterest, early results around buyable pins show that they are "more than doubling" the rate at which shoppers convert into buyers. Online clothing boutique Spool No. 72 has reported that 84% of its customers coming from buyable pins are new, and handmade goods shop Madesmith reports that buyable pins are responsible for 7% of its sales (via Forbes).
How can you incorporate buy buttons into your paid social media strategy? Samantha Hearn advises not using the buttons in isolation. Include them as part of a remarketing media plan – in which you target customers who have visited your website or shown interest in your product in the past.
It's a good idea to attach buy buttons to products with a low value, at least to begin with – fewer people are likely to make a snap decision to buy a high-end luxury item on social media.
On Pinterest, buyable pins will only be valuable if you already have a marketing strategy in place on the platform, so make sure you plan your Pinterest strategy with buyable pins in mind in order to get the most value from them.
Finally, test and learn! You won't hit upon the perfect recipe for buyable pin success straight away, but keep trying different things and monitoring the results to find out what works.
Shoppable User-Generated Content
You've probably heard about, or made use of, User-Generated Content (UGC) as part of a content marketing strategy. But have you thought about making it shoppable?
Shoppable UGC can take the form of a lookbook or gallery showing pictures of consumers wearing or using your products, with direct links allowing people to buy the items pictured. This can work well for a clothing brand, for example, as prospective buyers can see what an outfit would look like on different body shapes and sizes.
According to Pixlee, lookbooks and inspiration galleries can increase average order values by around 6%, as well as helping to educate shoppers on how real customers use each product. An Elon University study also found that 66.3% of consumers rely heavily on user-generated content when making purchasing decisions.
A great example of a shoppable user-generated gallery is Asos' #AsSeenOnMe campaign, in which customers can share pictures of themselves wearing Asos products on Facebook and Instagram using the #AsSeenOnMe hashtag, and be added into the gallery.
To start making use of shoppable UGC in your brand or business, Hearn advises creating an "always-on" hashtag – like #AsSeenOnMe – which is present in your marketing both online and offline. Accompany this with a call to action which encourages people to get involved in the campaign.
Another way to get people involved with submitting user-generated content is to run a competition, with the entries compiled in a shoppable gallery. Encouraging people to vote for their favourite submissions will also help to spread awareness of the gallery and the products featured in it.
Pixlee and Olapic are two third-party tools that allow you to create shoppable galleries with user-generated content, and a number of other dedicated tools exist to create shoppable galleries on Instagram, such as Foursixty, ContentPlum and LikeItWantIt.
Shoppable Video
Imagine watching a video of a fashion show, and being able to purchase the outfits that the models are wearing directly from the video itself. Or watching an advert and being able to seamlessly click through to purchase the item afterwards. What about watching a YouTube beauty tutorial which lets you interact with the video to buy the products featured? These are all the kinds of things that shoppable video makes possible.
There's no doubt that we're living in the age of digital video, and incorporating video into your marketing can make it more impactful, engaging and memorable. According to Diode Digital, video promotions are six times more effective than print and direct mail, and 60% of visitors will watch a video before reading text on a webpage.
Given these kinds of statistics, it's not surprising that shoppable video is also proving to be a very effective way of showcasing and marketing products. Home goods retailer Wayfair found that shoppable video brought in three times the revenue per impression served, compared to their previous campaigns. And according to Steve Callanan, the CEO of interactive video service Wirewax, 67% of people will interact with a rich video, with a click-through rate of 16 to 48%.
Retailers such as Burberry, Lowes and Best Buy have already begun experimenting with blending content and commerce in shoppable videos. One of the key things to remember, says Hearn, is not to let the 'shoppable' aspect interfere with the experience of watching the video. Find a natural way to promote your product or service alongside or within the video; Marks and Spencer, for instance, introduce their products with discreet thumbnails on the right-hand side which pull out for more information.
Think about ways to incorporate more video into your wider content marketing strategy. Instead of an image-based lookbook, why not make it a shoppable video? How-to videos are a popular and useful resource, and you can make them shoppable by allowing viewers to buy the tools or items used in the tutorial, as Lowe's did with this guide to replacing a bathroom faucet.
Then at the end of the video, showcase all the products and services on offer, in case your viewers missed any or didn't want to interrupt the video to check them out.
Third-Party Social Shopping Sites
As social shopping develops into an increasingly lucrative niche, it's no surprise that websites devoted entirely to social shopping are springing up left, right and centre. From Grabble, the "Tinder for fashion", to sites like Polyvore, Wanelo and The Beautyst, there is a wide range of social shopping communities you can get involved with.
So why should you consider third-party social shopping sites? For one thing, users come to these websites specifically to shop, a fact which is reflected in the average order value of a site like Polyvore. It hammered regular social networking sites in a study by RichRelevance, with an average order value ($383) that was 91% higher than that of Pinterest, and a whopping 325% higher than Facebook's – despite being much smaller than either website.
Social shopping sites are often highly visual, which brings all the engagement benefits of a visual social network combined with a platform tailored for making purchases.
Just like with any other social network, you can use social shopping sites for content marketing, influencer marketing and social engagement, plus you can use them to gather insight into customers and their behaviour. With some you can also buy ad space, allowing you to target your advertising specifically at an audience already in the mindset to make a purchase.
Chatbots
Finally, we have chatbots, a still-emerging technology which is already a hugely hot topic in e-commerce, and has a lot of promise for facilitating social shopping and customer interaction. Last month, Facebook launched chatbots within Messenger, allowing businesses to use its bot-building tools and resources to create personal assistants that help customers browse products and make purchases.
Messenger's chatbot service will allow it to compete with other messaging apps like Kik and Telegram which have already launched bots of their own. On Kik, for example, you can chat with clothing retailer H&M, who will use your answers to a few simple questions to build you a custom style profile, and then surface outfit suggestions based on that profile, which you can click through to purchase from its online shop.
What could be the advantages of making chatbots part of your ecommerce presence? Chatbots enable you to provide a more personalised product and service to your users, without needing actual humans to put in the extra hours that would normally be required to make that happen.
They also offer the convenience of being able to go shopping right within messaging apps which users already spend 50 to 200 minutes using every week, and more easily find products that are relevant to their tastes and style.
Chatbots have the potential to be incredibly valuable in collecting data on the way customers use your products and services, what they look for and what problems they encounter.
And in an age when customers increasingly expect businesses to be available at all hours of the day and night, you can use a chatbot to provide a 24/7 response channel on behalf of your business, again with significantly fewer resources than would normally be required. While they aren't a substitute for the human touch yet (acting more like the instant message equivalent of a telephone voice menu), chatbots still have the potential to answer some basic queries and provide services when normally there would be none available.
Tips on getting started with social commerce
With all this in mind, where should you start if you want to start incorporating social commerce into your digital marketing? Samantha Hearn finished off her presentation with a set of useful points to bear in mind before you dive in.
Identify your objectives. What is it that you hope to get out of social commerce, or what do you hope it will bring to your business?
Audit your audience and the platform. Before you commit to building a chatbot on Messenger, or having a presence on Polyvore, consider: is your customer on the platform? Are your competitors on there? What leads you to believe there is an appetite for your product on the platform?
Assess your internal resources. Is it something you can implement at this particular point in time, or in the near future?
Plan a distribution strategy and identify Key Performance Indicators. How will you measure your success? Make sure that your social strategy works in conjunction with other areas like public relations.
Test, measure, and adapt. As with every new venture, there'll be trial and error, so leave yourself room to make mistakes and learn from them.
___
by Rebecca Sentance