Future of mobile commerce: stats & trends to know in 2020-2025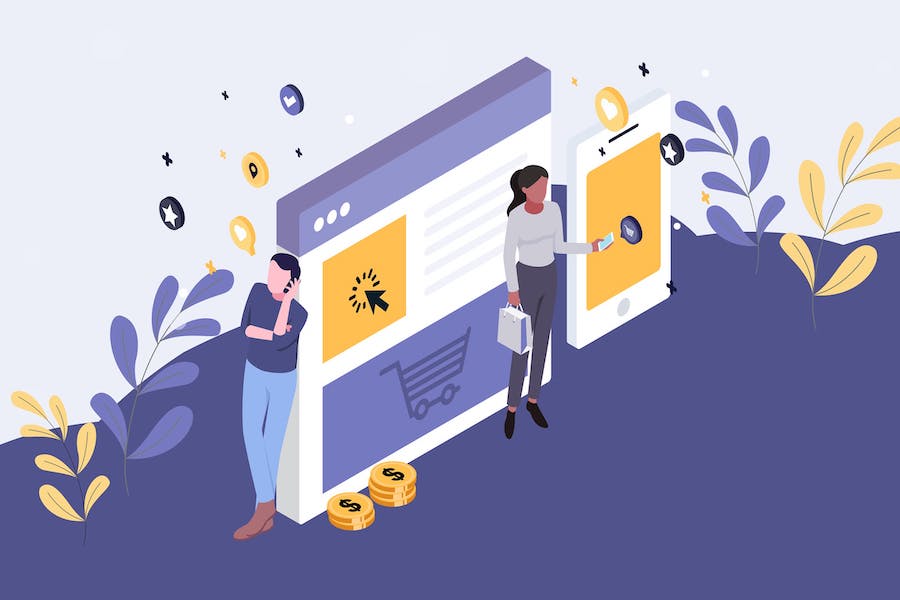 "Mobile Commerce is the next big thing."
I know, many of you would have raised your eyebrows. You might have been thinking that mobile commerce is not a big thing. It's just a fad that will soon be forgotten or replaced by another.
But believe me, it is NOT so.
The mobile commerce domain is growing by leaps and bounds. The segment is flourishing at such a level that it is nearly impossible for someone to outshine in the market without giving a thought to the future of mobile commerce. 
Something we will talk about in this article.

While the infographic would have given you a hint about how the future of mobile commerce will look, let's take a deeper dive into the segment and see what one needs to consider for improving their mCommerce strategies. Starting with a quick recap of the current mCommerce statistics and trends.
49% of consumers shop via smartphones worldwide.

10.21% of smartphone users add items to their carts via mobile in comparison to 11.63% of them still relying on desktop applications.

On further categorizing, it has been found that iOS brings more conversions than Android with values 2.11% and 1.81% respectively.

The total mCommerce transactions recorded by the end of 2019 are $2.3 trillion.

Over 1B mobile users used coupons for shopping globally in 2019.
These mobile commerce usage and revenue statistics throws light on the fact that this segment is getting a huge momentum in the current scenario. It is attracting both commerce businesses and users to turn towards mobile domain for offering a slew of options. A few of which we will cover in the next section of the article.
Reasons businesses are investing in mCommerce apps
1.  Wider reach
Nearly 42.63% of the world's population uses smartphones. Meaning, businesses that have or is planning to enter the mobile commerce domain is able to interact with a wider range of users and enjoy more potential sales leads. They no further have to remain confined to their local premises.
2.  Time-saving
mCommerce applications gives users an escape from traveling to brick-and-mortar stores to buy something. Besides, they enable users to use native mobile functionalities and loads content 1.5 times faster than e-commerce sites. This, as a whole, reduces their efforts and saves time.
This is again one of the prime advantages of mobile commerce.
3.  Quick check-outs
Unlike traditional websites and other solutions, mCommerce apps are designed such that it enables users to place an order with a single tap. This prevents them from abandoning their cart (or even think about it), which eventually blurs the line between getting a sales lead and losing one.
[Also Read: How can M-Commerce Apps Lower their Cart Abandonment Rate? ]
4.  Multiple payment options
mCommerce solutions let users employ multiple mobile wallets and other payment options within the application. This gives users a break from re-entering their card numbers for endless times and exiting the platform on frustrating.
5.  Enhanced customer experience
Almost all the types of mobile commerce applications comes loaded with the power of Predictive Analytics, Augmented Reality, and other such technologies. This makes it easier for businesses to gather user insights, understand their behavior, and provide them with an enhanced mobile shopping experience.
6.  Improved brand reputation
Last but not least, enhanced brand marketing is also one of the benefits of mobile commerce apps.  
These applications enables retailers and brand merchandise to build a long-term relationship with their target user base by  localizing the app content, providing discounts/offers, building a push notification strategy, asking for their feedback timely, and much more.
Such benefits are making mCommerce a big hit in the present time. But, the questions that pop out here are –
Will these benefits paint a positive future of mobile commerce also? Will these benefits of mobile commerce encourage establishments to take their business on mobile?
Let's find out the answers based on some facts and figures.
Statistics forecasting the future of mobile commerce in 2020 & beyond
1.  The
 

mobile commerce revenue

 

is expected to hit $3.56 trillion by the year 2021.

Last year, the mobile commerce revenue generated was $1.8 trillion and this year, it has touched $2.32 trillion (A value that is nearly 2X the one recorded in 2016). And by the year 2021, it will reach $3.56 trillion – with an average y-o-y rate of 33.8%.

This significant rise in the revenue value is a clear indication that the mobile commerce market is not going to stop soon. It will flourish exponentially, making it imperative for retailers and brand merchandise to hire the right mCommerce app development company and plan their mobile journey.
2.  North American and European countries will be big players in mCommerce market revenue in 2020-2024.
As per a survey by Mordor Intelligence, the demographics will vary in terms of mobile commerce revenue and expansion rates. 
While North American and European countries will add more profits to the segment, Asia-Pacific and Middle East nations will bring more users into the domain. 
3.  By 2021, mCommerce share in e-commerce retail sales in the US will be 53.9%.
In 2017, the share of mobile commerce in e-commerce retail sales in the US region was 35.5%. But, with a steep rise in the usage of smartphones and the growing attraction of millennials towards shopping apps, mCommerce will surpass the e-Commerce, with 53.9% of the total e-commerce market share. 
4.  mCommerce market will see new faces in between 2020 and 2025.
Currently, mCommerce market is dominated by global biggies like Google, Mastercard, PayPal, Amazon, Apple, Alibaba, and SAP. But, in the coming years, many new entrants will come into the limelight. They will unleash better opportunities for consumers, establish themselves, and dilute the market to some extent.
5.

 

Mobile wallet market will grow to $5.3 trillion by the end of 2020.
Mobile wallets are offering the facility to store credit card details and shipping addresses securely and process the online purchase without re-entering the information. Because of this functionality, users are showing a great love towards these wallets. A proof of which is that the mobile market size is growing steadily from $1.65 trillion to $5.3 trillion between 2013 and 2020, with a CAGR of 127.5%.
What's more interesting is that the mobile wallet usage graph will be influenced by the geographical location. A glimpse of which can be taken from the following data:-
This will further make it necessary for the e-tailers to focus on the targeted location and gain other insights while deciding the features of their mobile wallet app.
6.  The global proximity mobile payment transaction market will rise from 721.2 million to 1 billion in 2017-2020.
Mobile proximity payment (MPP), also called NFC payments, will also see an unprecedented rise in the coming years. The number of transactions will grow from 721.1 million to 1 billion between 2017 and 2020, with Google Pay, Apple Pay, Samsung Pay, and other such apps being the driving factors.
Now, while these statistics proves that the future of mobile commerce is clear and even dazzling, the next set of questions that arise here are – 
What mCommerce trends will change the landscape of the segment? What factors should one consider while planning their mobile E-commerce strategies for 2020-2025?
Let's wrap up this article watching out the latest mCommerce trends for 2020-2025.
10 trends to consider for strengthening your mobile commerce strategies in 2020-2025
1.  Smart personalisation
Nearly 61% of smartphone users favor brands that deliver personalized experience. Because of this, personalization has remained one of the mobile commerce trends in 2018 and beyond.
And in 2020, this mCommerce trend will get an upgrade. Smart personalization will become the new face of the domain, with businesses focusing more upon behavioral segmentation while app marketing. 
That implies, e-tailers and marketers will study user demographics, previous searches, behavioral shift, device logged from, and other such factors to push the right message to them at the right time. And this way, enjoy higher customer satisfaction rate and more sale conversions.
2.  Supercharged and Optimized page load speed
These days, smartphone users have 2 or more shopping apps on their devices and abandon a page if it takes more than 3 seconds to load. Because of this, focusing on improving page speed will also be one of the main mobile commerce trends for 2020-2025. 
It will be important for both startups and established brands in the commerce domain to ensure that their app pages are well-optimized and loads at lightning speed, while delivering an impeccable experience.
3.  Automated customer support
By the end of 2020, about 85% of customer interactions will be handled without human intervention. 
Businesses will invest heavily in Chatbot development and integrate these AI-powered tools into their customer support process to reap a myriad of benefits, such as:-
Higher customer engagement level by handling multiple users in real-time,

Better analysis by gathering user information from the conversation and sharing with the sales team,

Improved customer satisfaction level by offering personalized options in a conversational manner,

Better productivity by screening out potential leads, and more.
4.  Omnichannel experience
With a rising competition in the market, nearly 50% of businesses are using about 8 different channels for interacting and delivering customer experience. While this has helped them with creating a greater visibility, it is making it difficult to meet users' expectation of delivering a seamless experience while switching from one to another touch point. Because of this, the idea of creating Omnichannel retail experience will prevail in the year 2020-2025.
Retailers and business merchandise will bring together both online and offline retailing methods as a single entity, such that users could get a wholesome shopping experience even on changing the communication channel.
5.  Social media presence
Social media is also powering up the future of mobile commerce. It is enabling brands to reach masses, build higher engagement level, promote their product/services, communicate with them, get more insights to upgrade their business strategies, enjoy higher ROI, and much more. 
It has been found that 55% of users made a purchase after they discovered a product on social media. Likewise, stores with social media presence have gained 32% more sales than those still working with traditional methods.
6.  Augmented reality
Augmented Reality will also continue to change the way we shop online and in-store. The technology will enable e-tailers and brand merchandise to promote their services/products in a much more realistic way, direct users while shopping in-store, as well as enable consumers to try out any product before buying. 
With such perks, the technology is predicted to bring around $120 billion  sales by the end of 2020.
7.  Autonomous vehicles
While autonomous vehicles are still a new thing in the market, they are proving to have a high potential in the future of mobile commerce. These technological innovations are handling inventory efficiently as well as delivering products in the least time across the globe. This way, they are coming up as the solution for various challenges faced by e-tailers in the present scenario, including providing better shopping experience.
8.  Crypto payments
Though many people have not yet understood the working of Cryptocurrencies, growth in crypto payments will continue to outpace other payment solutions. 
Brands will show more interest in introducing Blockchain wallets into their traditional processes during the period of 2020-2025. And provide advantages like –
Faster transactions

Lower transaction cost

Higher security

Anonymous tractions, etc.
9.  Voice search
With the rise of use of digital assistants like Google Assistant, Amazon Alexa, and Siri, Voice search will also become one of the top mobile commerce trends for 2020-2025.
Users will make nearly 50% of their searches and prefer hearing businesses prices via voice by 2020. All the while, businesses will embed voice-activated commands into their mobile apps to target those voice searches and increase sales. 
A result of which is that the voice-driven shopping market is expected to reach $40 billion by the year 2022.
[Also Read: How to Integrate Siri into Third Party iOS Apps?]
10.  Proximity marketing
While many people are debating about the death of the brick-and-mortar store in the coming years, it will survive and grow with the help of Proximity marketing.
The concept of using WiFi and BLE-powered Beacons will enable Entrepreneurs to target people within a particular radius of their physical store, send them personalized discounts/notifications, and make profits effectively.
___
by Prateek Saxena
source: appinventiv