What are Push Notifications? (+7 strategies to boost customer engagement)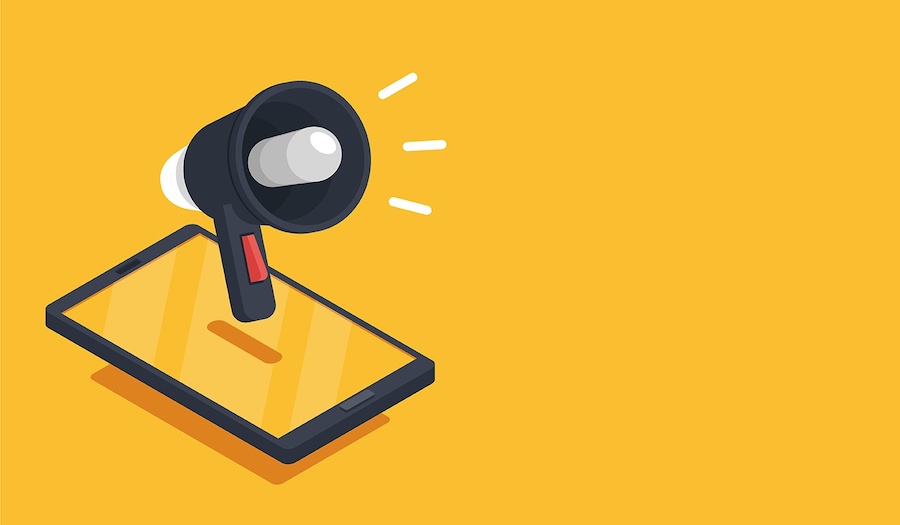 Push notifications are a highly valuable tool for boosting customer engagement.
If you work in digital marketing, e-commerce, or publishing, you probably understand the challenges of continuously providing an engaging customer experience and winning back lapsed customers. (What digital marketer hasn't sent at least one "We miss you!" email to inactive subscribers?)
As consumers' inboxes are saturated with newsletters, special offers, and other marketing content, it's more and more difficult to engage customers through email. To solve this, a new marketing channel has emerged: the push notification. Push notification software makes it easier than ever for digital marketers to reach customers.
I know what you may be thinking: "Push notifications are all well and good, but I can't use them because my business doesn't have a mobile app." Don't worry — push notifications are no longer restricted to mobile marketers! Thanks to web push technology, any business with a website can leverage push notifications to engage customers.
What are push notifications?
If you have apps on your phone, you likely receive dozens of push notifications a day. Mobile apps are known for push notifications, and now desktop applications can use this technology as well.
Push notifications definition
Push notifications are short messages sent directly from a software application to a user, usually via mobile application or web browser.
Although push notifications are used to send messages through a mobile app or web browser, it's important to note these methods are implemented differently. Some push notification solutions help digital marketers send messages through apps and browsers, while others focus on only one channel.
App push notifications can only be deployed on a mobile application, so users exclusively receive messages on their smartphones. Web push notifications are delivered to a user's web browser and can be received on both mobile and desktop devices.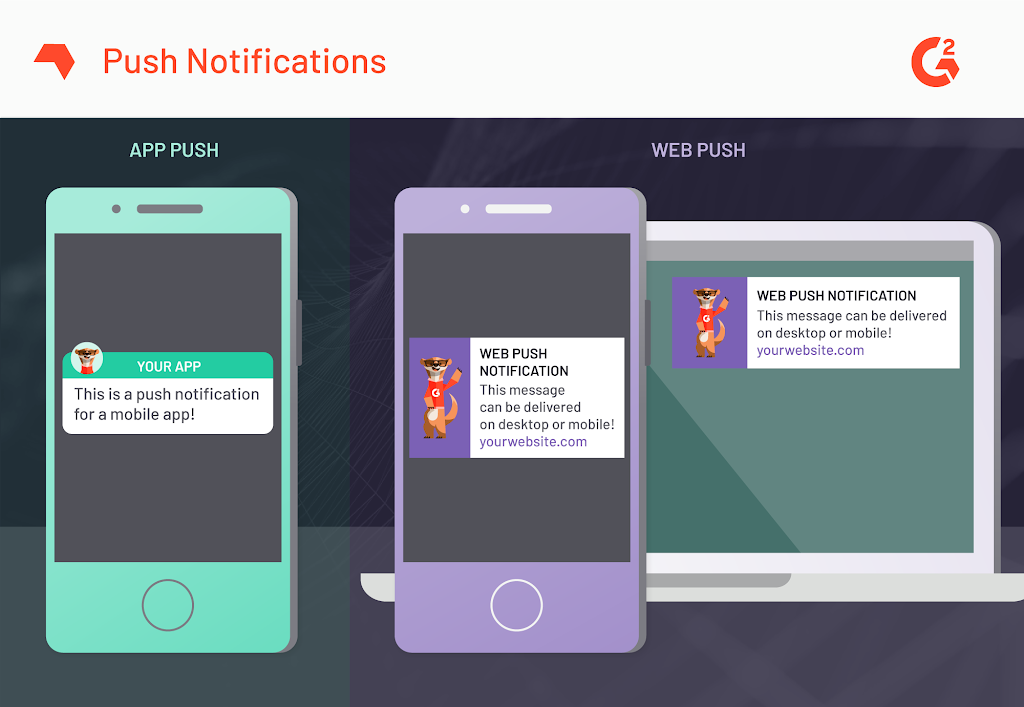 Push notifications are valued for their ability to reach customers at any place and any time. They're also incredibly versatile. E-commerce businesses often implement push notifications to promote special offers, increase sales, and reduce shopping cart abandonment. Digital publishers use push notifications to alert users about relevant content and breaking news. Companies in the travel and hospitality industry leverage push technology to provide subscribers with check-in reminders, traffic reports, booking promos, and more.
A brief history of push technology
Early 2000s: A company called Research in Motion popularizes the concept of push technology in mobile devices. Its smartphone, the BlackBerry, notifies users of new emails as soon as the message is received. (Email-dependent BlackBerry users come to affectionately refer to the device as "CrackBerry.")
2009: Apple introduces the first push service, Apple Push Notification service (APNs).
2010: Google releases its own push service, Google Cloud to Device Messaging (C2DM), now known as Firebase Cloud Messaging.
2013: Apple rolls out APNs support for web push notifications on Safari with the release of Mac OS X 10.9.
2015: Google adds support for Push API on the Chrome browser. With the most popular desktop web browser supporting web push technology, other browsers soon follow.
2019: Today, web push notifications are supported by Google Chrome, Firefox, Microsoft Edge, Safari, and Opera.
7 push notification strategies to boost customer engagement
Push notifications have long been an asset in the mobile marketing toolbox, especially as a means to reduce app churn. Web push notifications are relatively new, but many of the same strategies can be applied to both channels.
Communicate your unique value proposition
Before you start using push notifications, your customers must grant permission for you to send them messages. Once your web push code is installed on your website, visitors will see a small popup message asking them to opt in to receive notifications. For Android apps, push notifications are usually turned on by default, while Apple users will see a standard prompt to enable push notifications when they download your app.
Don't make the mistake of thinking the generic opt-in message will convince consumers to subscribe. Take this opportunity to present your unique value proposition: How will users benefit by opting in to your company's push notifications? Be sure to explain why they should accept these messages and what they'll get out of them — whether it's personalized content, breaking news, or exclusive alerts on special offers. By letting your customers know what to expect, you'll build an active audience ready to engage with your content.

Personalize your push notifications
Personalization reigns supreme as consumers are inundated with marketing messages everywhere they look. A recent report from SmarterHQ revealed 72% of consumers say they  only engage with marketing content that's tailored to their interests.
It's essential to personalize your messages to optimize the success rate of your push notification campaigns. For example, when a customer places a new order on your site, they might appreciate a push notification with the order details, and a second notification with tracking information when the order ships. Based on a user's location, geotargeted notifications are useful for alerting customers about sales at a nearby store or sharing news tailored to their geographic area.
Send relevant new content to segmented lists
Push notifications are a great way to let your customers know about new content to draw them back to your site. Not all of your subscribers will be interested in every new piece of content. Push notification software has segmentation features allowing you to create lists of customers based on the information you've gathered about them or previous actions they've taken.
TIP: Learn about the four types of

 

market segmentation

 

and how to implement your own segmentation strategy.
Schedule notifications at the right time
Timing is key when it comes to sending push notifications. Aim for your subscribers to receive notifications when they're more likely to be using their device. No one will thank you for waking them up in the middle of the night with a push notification! Segmentation also helps with scheduling campaigns based on a customer's time zone.
If you're using push notifications in combination with other channels, such as email marketing or SMS marketing, it's important to avoid duplicating your efforts. Customers may be frustrated by receiving the same message more than once in a short span of time. Keep in mind that push notifications are best suited for sending short, time-sensitive messages to your customers, while emails are better suited for sharing detailed information.
Perform A/B testing
A/B testing isn't just for web design and email marketing. To truly optimize your push campaigns and learn what works best, you'll want to perform A/B tests. These tests allow you to send two variations of a notification to two small, randomly selected segments of users. A winning variation is then chosen and sent to the remaining customers.
Thankfully, many push notification solutions offer A/B testing features. Try experimenting with different marketing copy, CTAs, emojis, and timing to see what resonates with your audience. Remember that A/B testing is a continuous process — as your list continues to grow and evolve over time, your customers will respond differently to notifications.
Reengage lapsed customers
Since push notifications reach members of your audience even when they aren't using your app or website, they're an excellent way to reengage lapsed customers. Ideally, the best time to reach out to inactive users is just when they're beginning to disengage. Segmentation tools help marketers send reengagement campaigns to users who haven't opened the app or visited the website recently.

Don't spam
This is perhaps the most important thing to remember when sending push notifications: Don't be too "pushy." Push technology is a form of customer engagement best used in moderation. Just because you can reach customers at any place and time doesn't mean you should send them multiple messages a day. If you bother your subscribers too frequently, they'll become frustrated, unsubscribe from notifications, and even uninstall the app. Before sending a push notification, ask yourself if it's providing value to the end user.
___
by Stephanie Graham
source: G2