What is social media listening (and how it can help your SEO)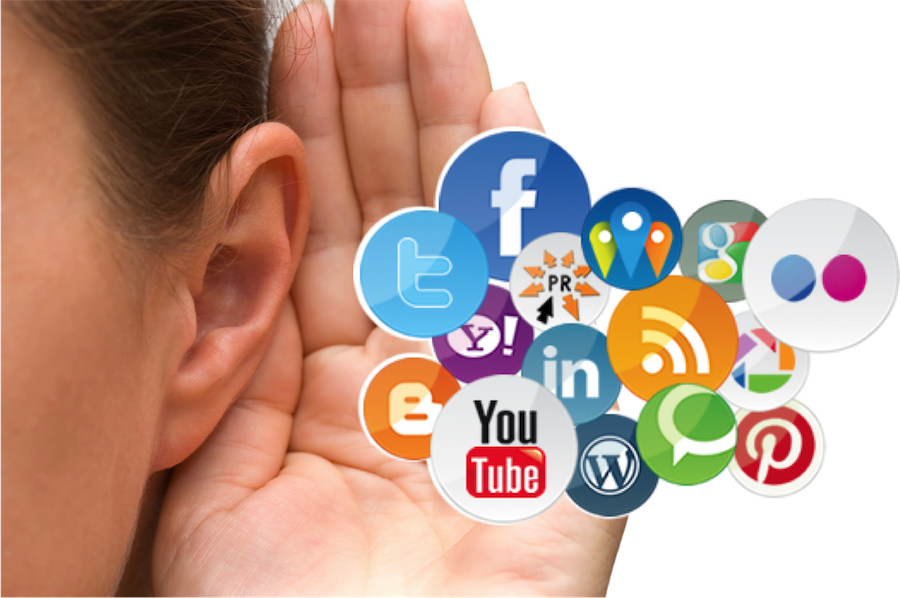 The unstable and unofficial relationship between social media and SEO has been bothering every digital marketer for some time. I wasn't left behind in these debates and, like many others, realized after a while that social media is needed for a full and healthy SEO strategy. But in what way? How can we get the most out of social media while not getting sucked in and spending half of the working day scrawling through Twitter? I've found the answer: with the help of social listening.
What is social listening?
For those who don't already know, simply put, a social media listening/monitoring tool crawls the internet and social platforms and finds mentions of your brand/company/product/CEO or any other valuable keyword. It collects the found mentions in a handy dashboard in real time, so that you can reply, engage, follow the author, or do anything else of your choice with those mentions almost instantly. Social media listening tools like Awario, Brand24, Mention, and such can help a lot with streamlining the process.
Social listening is famously used for a great number of things: improving customer service, increasing brand awareness, preventing social media crises, building the brand's reputation online, and better understanding the customers (market research). The connection between social listening and SEO isn't quite that straightforward.
Before we get to it, let me emphasize all the comments on how social media is not a ranking factor. Yes, I won't claim in any part of this article that social media is one. Since Gary Illyes' statement in 2016, we are pretty sure that Google doesn't take social into account directly into their algorithm. So there's no real controversy on this topic at the moment, even though we never know what they might do in the nearest future. However, firstly, social media affects ranking indirectly in a number of important ways, and secondly, social listening tools aren't just about social media. Let's dig in.
1. Keep an eye on the sentiment (just as Google does)
At the State of Search event in 2017, Gary Illyes was quoted as saying that Google uses sentiment analysis for search rankings. Sentiment analysis must include social media. Think all these complaints on Twitter. Think a social media crisis that means mass complaints on social media. Any sentiment analysis would pick up on that. Now, of course we can't be sure, but seems very likely that:
Google looks at brand mentions on social media
Google analyzes the sentiment of this data
If the data is significant, Google might use it as a ranking factor.
Now to the best part. Social media listening tools often have sentiment analysis as one of their features. If you're using one, you can keep an eye on the sentiment of your brand on all social media platforms as well as news, blogs, forums, and other places where it may be picked up by Google. You'll spot any problem within minutes and will be able to prevent it from growing large enough to possibly affect your rankings.
2. Turn linkless mentions into links
Social media listening tools aren't just about social platforms. As mentioned before, they find mentions of your brand or any other keyword on blogs, forums, news sites – all the pages that Google definitely crawls. With a social media monitoring tool, you can find these mentions and contact site owners or the authors of the article to add a link to your site. Given that they're talking about your brand already, they may not mind helping you out with your link building strategy.
3. Find influencers of your industry
Online influencers are users that became popular in a specific category (e.g., technology, makeup, cooking, etc.) and build a large following of people who listen to their every word on that specific category. Finding the relevant influencers is a great idea for a large number of reasons, most of which are about product promotion and word-of-mouth. However, it's about link building too (which is not surprising, since all these things are madly connected).
When you search for industry keywords with a social media monitoring tool, you get a list of people that the tool considers to be influencers. These are people with the largest following or website traffic, who have mentioned your keywords a number of times. Choose people from this list and refer to them in your blog or a social media post, linking to their site. They'll might notice this and return the favor, and you'll get a link from a site visited by your target audience. No one values this sort of online relationships and mutual link building quite like influencers – they've often built a career this way. If they miss your efforts, reach out and ask for a link directly. If you're humble and polite, you're most likely to get one.
4. Increase website traffic
The most obvious result from a reach social media campaign is the increased website traffic. Website traffic is one of the most important SEO factors and one should strive to achieve it in any possible way, including social media. In times when the organic reach of Facebook and Twitter posts is gradually getting lower, a social media monitoring tool is probably the most effective way to get more clicks. Here's how:
There are thousands of people online looking for any kind of product. Social media, especially Twitter, has become a land for getting advice, voicing opinion, spreading word-of-mouth, and connecting people. By the latter one, I don't mean the old Nokia slogan. I mean, you can directly talk to movie stars, politicians, and brands. And they can, and often do, talk to you. Isn't that absolutely magical if you think about it?
In terms of marketing and website traffic this gives us tons of opportunities. Fire up a social media monitoring tool, find mentions that look for your product (use keyword queries such as "Can anyone recommend X"; "looking for Y alternatives"; "looking for new X", etc.) and reply to them on social media with a link to your website. Not only the author of the tweet will check it out (if your product is relevant, of course), but also many others if the author's reach is large enough. To know about the magnitude of the following, i.e. whether it makes sense for you to send a link for the SEO purposes, you can check the number of the author's followers in the tool's dashboard. That's not an option in all of them, but all the best ones have it.
5. Keep an eye on linkless mentions
Finally, let's go back to the initial purpose of a social media tool. It's there, first of all, to keep an eye on linkless mentions. After all, you can find links with any SEO tool, and you can find social mentions directed at your brand with Twitter/Facebook/Instagram/etc notifications. It's linkless mentions that these kinds of tools are after. They show you how their growth changes over time, where they come from, what their sentiment and demographics are, and so on. How is it important for SEO?
We have enough information to know that Google values linkless brand mentions. In his unique style, Gary Illyes said in his keynote at Brighton SEO in September 2017: "If you publish high-quality content that is highly cited on the internet — and I'm not talking about just links, but also mentions on social networks and people talking about your branding, crap like that. Then you are doing great." If this doesn't sound convincing enough, which it doesn't, look at Google's Panda patent. It refers to "implied links," i.e. mentions as a signal that could be equal in weight to backlinks.
By using social listening, you find all these mentions, you grow their number by engaging with the authors, you see what they depend on (some specific type of a marketing campaign, blog topics, etc.), and control what they are and what they say.
Conclusion
In the SEO timeline, we're somewhere in between. We haven't moved away from link building yet: it's not dead, it's not even feeling unwell. However, we've moved far enough from it to consider the reality of the Internet. And the reality, of course, isn't something as technical as links. It's good content that gives people the answers they want, and it's social media with its huge worldwide use, its buzz about brands, and the type of this buzz. Make sure you don't miss out on any of these factors.
___
by Aleh Barysevich
source: Search Engine Watch