The three best B2B marketing channels for small businesses (and how to use them)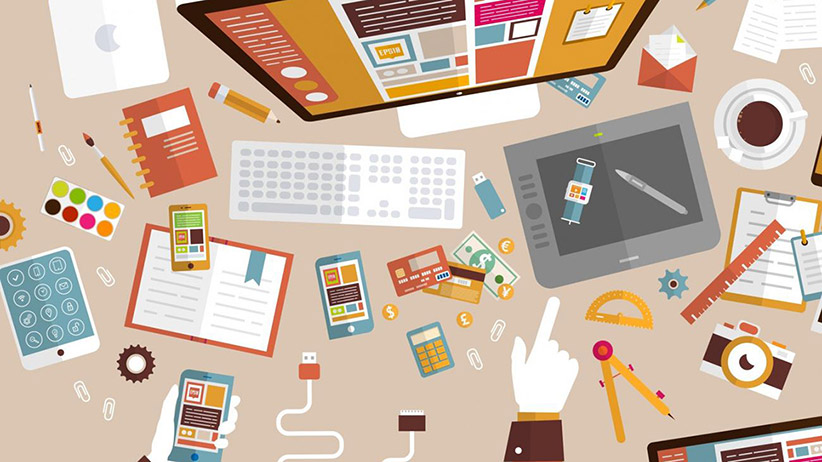 B2B marketing for small businesses can be difficult to get right. A limited budget means marketing spend must be tightly controlled, and returns must be justified by tangible data.
So, which channels should SMEs consider when planning their marketing strategy?
Email marketing
What is it?
Email marketing can be used to achieve several goals, including driving brand awareness, generating leads, customer re-engagement, product recommendations and conversion optimization.
Why is it great for small businesses?
For small business owners with limited time, resources and know-how, email marketing ticks all the boxes. It's simple to set up, inexpensive and has the capacity to be almost fully automated. It also has the highest ROI of any marketing channel: in 2016, $1 spent on email marketing would bring in, on average, $44 in return (Campaign Monitor).
Entry-level email marketing software is becoming increasingly sophisticated, offering customizable templates, mobile optimization and analytics tools as standard. The most valuable feature, however, is arguably audience segmentation.
This allows marketers to tailor campaigns to particular groups of customers based on their demographic information, behavior, interests and place in the conversion funnel. Some marketers have noted a whopping 760% increase in revenue from segmented campaigns compared to unsegmented ones.
How do I use it?
The first step is to build a list of prospects' email addresses. Generating these organically is preferable – it ensures the people are on the list are actually interested in your brand.
Effective list-building tactics include: implementing a subscription popup on your homepage, offering a free download – like an e-book, report, or whitepaper – and providing access to a useful tool.
Next decide what to send and when. A weekly newsletter provides a platform to showcase any recent news and keeps your brand top-of-mind, but email can also a more specific function – such as to promote products or to deliver relevant offers. For these, consider using a call-to-action to drive customers to a custom landing page.
Finally, A/B test all regular emails to understand what works and why – play with different subject lines, body copy, designs, colours and call-to-action buttons. Measure success by tracking open rates, click-through rates, unsubscribes and, ultimately, conversion rate.
Content marketing
What is it?
Carrying out content marketing means creating things like blog posts, videos and infographics to promote your brand, and sharing them with potential customers. Content can be used to build awareness, generate interest, stimulate discussion and answer questions about your brand.
Why is it great for small businesses?
SMEs often consider content marketing as difficult to execute and lacking tangible returns. It's certainly true that the benefits may not be seen immediately. But long-term, content marketing can deliver excellent value for small businesses.
High-quality content supports other areas of your marketing. Blog posts provide material for your social channels, for example, which can easily be shared to boost their reach.
How do I use it?
Consider what type of content to produce. There are several tools that can be used to create compelling infographics, such as Canva, Visualiza.me and easel.ly.
Written content can either be short or long-form. For B2B businesses, how-to guides can generate great search traffic. Use your expertise to create useful short-form content too, answering customer questions in around 800 words.
But don't stop there. Use tools like BuzzSumo to find industry influencers, then get in touch to see if they want to contribute a piece (or several) for your website. This gives them exposure and gives your business quality content from an authoritative source – lending your business credibility and hopefully drawing eyeballs to your site.
Make sure to follow up by asking the author to share it on social media – you'll be exposed to their network.
Remember: when creating content, consider which stage of the sales funnel it targets.
Top-of-funnel customers want to solve a problem or get a benefit, but aren't aware of your brand. Target this group by creating content demonstrating the value of your business.
Lay off the sales pitch for now – you want the information to be seen as reliable and authoritative. And sales lingo will damage that credibility. For an email marketing provider, for example, this might be a blog post entitled 'How to double your conversion rate with email marketing'.
Middle-of-funnel customers know they need your product or service, but haven't chosen your brand yet. Reviews, case studies and demo videos are effective here, as they lend credibility to your claims. Remember to consider the questions and objections your customers might have when comparing your products to others.
Bottom-of-funnel customers are fairly sure they want your product, but need help to actually do it. Here's where to turn the 'sales' knob up to 11.
Search optimization
What is it?
Basic SEO means making sure search engines like Google can understand exactly what your site is about. The better you do this, and the more engaging the content of your site it, the higher your site will rank in relevant search results.
Why is it great for small businesses?
Like content marketing, SEO is a long-term marketing strategy. But it requires less work than many businesses assume – following a few best practices is often enough to increase your visibility significantly.
More website visibility translates directly to more traffic, which can have a very real impact on revenue generation. A study by content marketing agency BrightEdge found the average website gets over 50% of website traffic comes from organic search, which generates over 40% of total revenue.
How do I use it?
There are a lot of misconceptions surrounding SEO. Those unfamiliar with it often see it as a tool to 'trick' search engines into ranking websites higher. In actual fact, there is no trick – it is simply a way to make the good content on your site as easy for search engines to understand as possible.
Produce relevant, question-answering content. Sites that rank highly in search engines do so mostly because the content on their site is actually relevant to a given search query. However, once you know how search engines operate, there are several ways to improve your chances of being ranked highly.
Here are a few quick and easy tips to improve your SEO as a small business:
Set up a Google My Business to verify your ownership and appear in local search results
Start using Google Search Console to get insight into how Google sees your site
Use Google AdWords to research keywords that you'd like to rank for
Blog as regularly as you can
Make sure your internal linking makes sense – connect themes and topics together in a user-friendly way.
___
by Chris Camps
source: ClickZ