15 reasons why you should post social media stories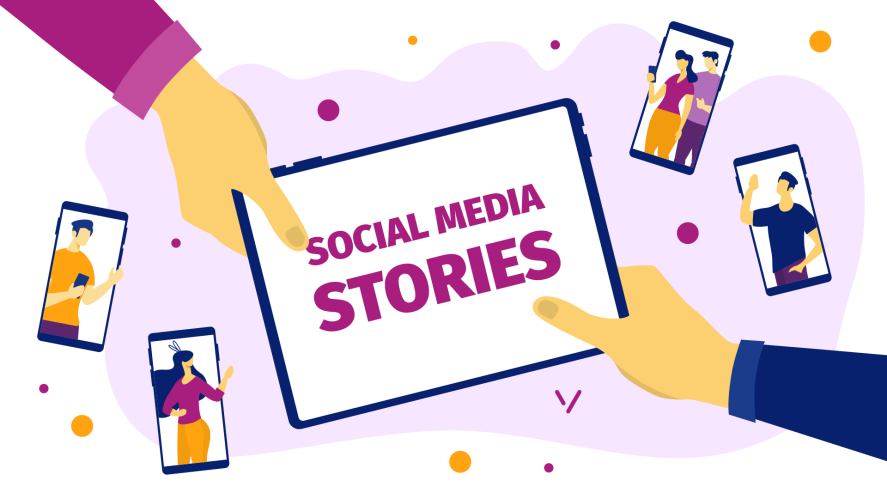 According to statistics, Instagram users spend 24-32 minutes every day watching stories. This is the length of your average series episode. Facebook says that around 1 billion people post stories every day on Instagram, Facebook, and WhatsApp.
As the stats show, leveraging the stories feature on these platforms can help you reach a wide audience, increase engagement, and enhance interaction with your brand through User Generated Content.
In this guide, we'll define what stories are and why you should consider using the feature. Let's get started!
What's the Point of Social Media Stories?
Social Media Stories are temporary posts. The concept started out on snapchat but was eventually adopted by facebook, instagram, and whatsapp. Stories allow you to use photos, videos, text, and tags to create content.
A study has found that peoples' attention spans have decreased from 12 seconds to 8 seconds. This is advantageous to stories, since they only allow you to upload 15 seconds of video at a time.
On Instagram, stories appear as highlighted circles around your profile picture:

The special features of stories are that they are usually uploaded from mobile phones, made in vertical format, and disappear after 24 hours.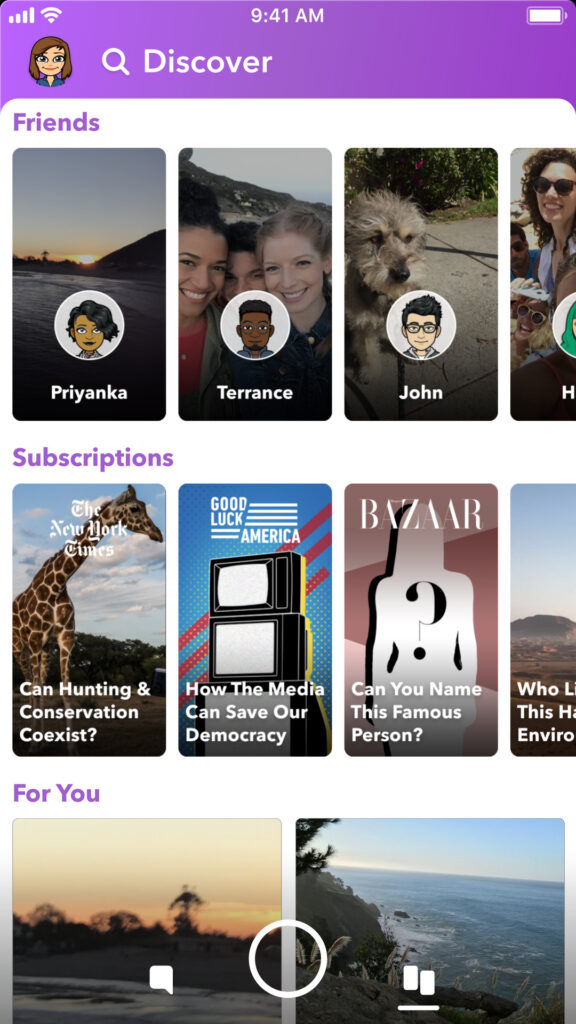 Stories can be found on the following platforms:
Instagram
Facebook
Snapchat
WhatsApp
YouTube
Why Should You Post Stories on Social Media?
It has been found that people interact with stories twice as often as they click on conventional Facebook posts. Around 15-25% of users click on links in stories on Instagram.
Let's look further into why you should post stories on social media as a brand:
1. Stories don't need to be fine-tuned
The convenience of stories is that they don't need to be refined. It has been found that unrefined and personal stories have done better than those that are heavily filtered, edited, and contain lots of CTAs.
By adding a personal touch to your stories, you can connect better with your fans and the stats prove this.
2. Brand Visibility
According to the 2020 IG Stories Study, posting up to 5 stories per day keeps your customer retention rate high at 70%.
When Gap started creating video stories for their marketing campaign, they saw a 73% increase in Click Through rates. These click through rates increased their traffic and audience engagement with their profile, hence enhancing their brand visibility.
On top of this, statistics have shown that people spend around half an hour clicking through their stories every day.
Everytime your favorite brand uploads a story, it's hard to miss it because it shows up on the top of your feed in a colorful ring. You also get notified when they do. Thus the stories feature definitely increases visibility for your brand.
3. Wider Reach
Around 500 million people use Instagram stories every day. Moreover, 86.8% of people upload stories every day. By posting your own stories, you can reach this huge audience successfully.
4. Drives Website Traffic
Data shows that 1 in 3 people are more interested in a product after seeing it on Instagram stories. Another study found that people click on links in stories twice as often as they click on normal Facebook posts.
This means that you can easily redirect your audience to your website or blog by adding links to your stories. This enhances your website traffic and leads to higher engagement and sales.
5. Personalize your Brand
There's no better way to personalize your brand than using stories to interact with your customers. Uploading raw, personal content allows you to approach your consumers as a friend. People trust other people more than they trust brands.
By adding a personal touch to your business, you can enhance customer loyalty. People will feel like they can connect better with you, which will encourage them to shop with you too!
6. Immediately Relevant Content
Social media users tend to be impulsive and have short attention spans. At the same time, they want to stay on top of the news. Stories offer them a quick, convenient means to view posts they're interested in right away.
7. Cost Effective
Advertising—even on social media—costs money. Stories, however, are free and also offer more engagement. On top of that, you don't have to spend precious time editing your content.
8. Contests and Promotion Participation
Customers don't want to be out of the loop when it comes to sales. Uploading one-day specials and flash sales on your stories will keep people constantly engaged with your stories so they don't miss such updates.
And since stories disappear after 24 hours, they'll be frequently visiting your profile to look for news, which will increase their engagement with your brand.
Additionally, giveaway or promotional posts uploaded on stories add a sense of excitement since customers can't tell how many people entered the giveaway or are taking part. This gets them even more excited to participate.
9. Helps you Dive into Video Sharing
If you're shying away from making videos about your brand, stories are a less intimidating way to do it. Since stories focus on uploading raw content, you don't need to focus on being or sounding perfect.
You don't need any fancy equipment or editing software. Just be yourself, be comfortable and honest, and have a good time!
On top of this, video stories also have slightly more engagement than image stories. They also perform better when it comes to tap-forward and exit rates. Videos have a higher tap-forward rate and a lower exit rate.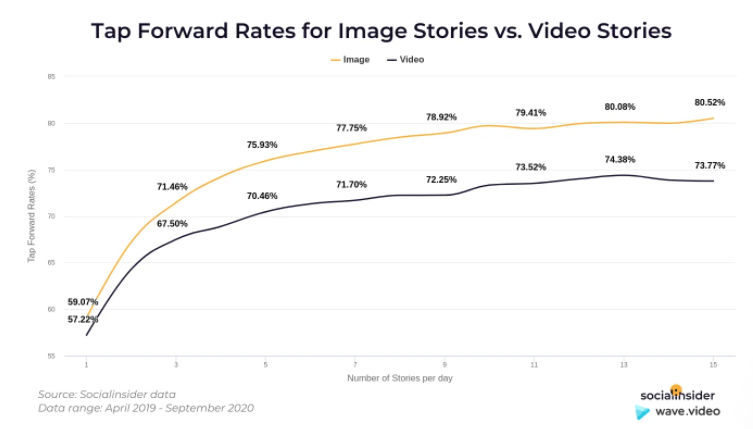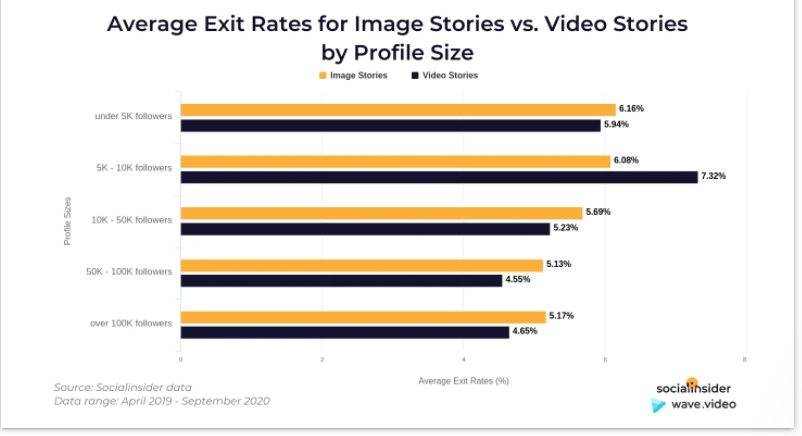 10. Become an Authority in your Field
It is quite time-consuming to create, edit, and upload social media content. When it comes to trending topics, the best time to post is immediately as they happen. This way, you get the most engagement.
Each minute you spend editing is a minute wasted in getting the urgent news out. With stories, you can upload live content, or photos and videos as soon as things happen without waiting to edit them.
People then start to notice that you're always on top of the latest news and start to rely on you for authentic, immediate updates. Slowly but surely you become an authority in your field.
11. No Need to Beat the Algorithm
Social Media Algorithms are pretty unreliable. They fluctuate from time to time, causing your visibility to fluctuate with them sometimes. However, stories always appear at the top of everyone's feed.
This means they always get the views they need. You don't need to upload at specific times of the day or with a bunch of hashtags that clutter the screen. And when you upload a new post, your story gets pushed to the front again!
12. Immediate Sales
A study found that 50% of people head off to a website after seeing the company's products in its stories. 1 in 4 millennials look for stories of the products they wish to buy.
This means users are more likely to buy products if they view them on stories. So the logical thing to do to increase sales is: upload products on your stories!
13. Transparent Competitor Analysis
Stories make it easy for you to find out what kind of business promotion your competitors are doing. You can simply view their stories to see what kind of content they're sharing, the types of sales or giveaways they're carrying out, etc.
For example, if one of your competitors is having a flash weekend sale, you can do something similar for your brand to keep customers coming to your stores.
You may also notice something they're lacking and implement them towards your own marketing campaign. For example, if you see that your competitor's Instagram presence is quite poor, you can amp up the user generated content for your insta profile so that you can appear more unique in your customer's eyes.
14. Better Customer Service
According to the Sprout Social Index, almost half of all customers these days opt for social media to raise their issues. It is more convenient than sending emails that take days to get replies or making lengthy phone calls.
If you engage with your audience on a daily basis and address their concerns, they'll come to trust and respect you. Social media stories offer a quick way to address concerns, and show users that you keep their satisfaction as a top priority.
15. Appeal to Younger Audiences
It's not a secret that young people today are interacting less with traditional advertising, opting for looking at online ads or stories for brand updates. That being said, it's important that companies build an effective social media presence.
Businesses should focus on creating opportunities for user generated content and stories to appeal to the younger demographic. Since a majority of people using social media are from Generation Z, brands can enhance engagement and sales by engaging these groups of people.
Bottom line
Around 48% of the world are active social media users. Social Media usage is the most common amongst youth, and 84% of users are aged 18-29. On top of this, these young ones prefer using social media when consuming ads.
If you want to appeal to this age group, you're going to need a social media presence. One of the most popular features of social media these days are stories and companies can leverage their power to increase engagement, conversion rates, and get the upper hand over their competitors.
This guide outlined the 15 major reasons you should consider using stories in your social media marketing campaign.
___
by Mandy Schmitz
source: SiteProNews